The Marsala Vergine di Soleras liqueur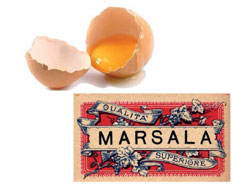 Marsala Vergine di Soleras is a Sicilian DOP liqueur, appreciated all over the world for its exceptional properties, including its olfactory characteristics. This nectar with an intoxicating scent is produced mainly in the province of Trapani, in one of the pulsating hearts of the oenological tradition of the region. RivaReno uses these exceptional Marsala Vergine Soleras in preparing its  Mascarpone and Zabaione gelato flavours, two real joys for the most sophisticated and demanding palates.
A prestigious Sicilian liqueur
Marsala Vergine Soleras DOC is produced with Grillo and Catarratto grapes, which are generally harvested between August and September. Using the Soleras method after which it is named, the liqueur is obtained from the fermentation of white wine which is aged for a long time inside small oak barrels. This  Sicilian liqueur wine  is characterized by its antique yellow colour, embellished with reflections tending to amber. The taste is powerful and dry and immediately reveals the whole structure and character of a product that is appreciated all over the world. The Sicilian Marsala Vergine Soleras offers a complex bouquet of perfumes, with hints of grass and wood, together with vanilla, cinnamon, cloves, walnuts, almonds, coffee and tobacco.
Marsala Vergine Soleras liqueur for the Mascarpone and Zabaione flavours
At RivaReno we choose Marsala Vergine di Soleras liqueur from the Pellegrino Cellars as a top ingredient in our daily fresh Mascarpone and Zabaione flavour gelatos.
We use this precious wine liqueur to offset the taste of egg yolk and make these specialities unique and absolutely inimitable; an authentic sensory experience that pervades the senses, the result of the genuineness of the freshest ingredients and the treasures of the most famous wineries in Italy.
A delicious and 100% genuine gelato
The secret of our gelato lies in its traditional recipe, which we carry forward with pride and which we use in our laboratories. We make our gelato every day, to offer our customers a fresh dessert that preserves and enhances all the flavour of each ingredient used. We always select raw materials taking into account the seasonality of produce and we love to use excellent made in Italy products such as Marsala Vergine Soleras and pistachios from Sicily, or more exotic ingredients such as chocolate and Bourbon vanilla from Madagascar. Come and visit us to taste the most original combinations and the most classic recipes in delectable gelato that is entirely handmade and 100% genuine.