Exploring the Magic of RivaReno Pumpkin Ice Cream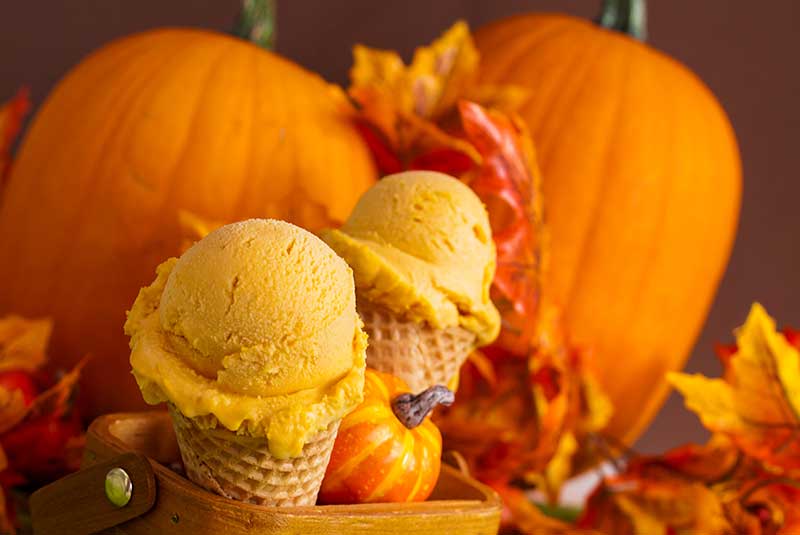 RivaReno's pumpkin ice cream takes you on a delightful journey through the enchanting flavors of winter. Let's uncover the details of the artisanal process behind the creation of this unique ice cream and the perfect harmony between the natural sweetness of pumpkin and its creamy texture.
We'll also delve into the origins of this winter delicacy and the meticulous care taken in selecting the ingredients, transforming this ice cream into a true delight for the cold season. RivaReno's pumpkin ice cream is a taste discovery that captures the unique essence of winter.
RivaReno Pumpkin Ice Cream: A Delight of Winter Flavors
With the onset of the cold season, what could be more magical than immersing yourself in the comforting and enveloping flavors of winter desserts? Enter RivaReno's pumpkin ice cream, a standout experience, a flavor journey that captivates the palate with its natural sweetness and irresistible creaminess.
What makes RivaReno's pumpkin ice cream extraordinary is the artisanal process behind it. Every phase, from ingredient selection to meticulous preparation, is executed with skill to guarantee a final result that exceeds expectations. The artisanal preparation of pumpkin ice cream is an art that demands mastery and attention to detail.
Meticulous Care in the Selection of Ingredients to Offer Maximum Quality
The pumpkin, the heart of this winter dessert, is chosen with care. Its natural sweetness is enhanced through a slow and delicate cooking process, preserving every nuance of flavor. Attention to detail extends to the selection of other ingredients, creating a harmonious balance of flavors that makes every spoonful of pumpkin ice cream an extraordinary experience.
Only the highest quality ingredients find a place in RivaReno's preparations, guaranteeing a delight that surpasses the expectations of even the most demanding consumers. Key ingredients include fresh pumpkin, preferably of a sweet variety such as Mantua pumpkin, fresh cream, sugar, and a combination of autumn spices like cinnamon, nutmeg, and ginger.
The mix of fresh milk, natural sugars, and delicately cooked pumpkin creates a creamy texture and an enveloping flavor that captures the very essence of winter. Every bite of pumpkin ice cream is a hymn to quality, a celebration of authentic flavors, and a demonstration of RivaReno's commitment to offering only the best.
RivaReno's Artisanal Process: The Magic Behind Every Spoonful
The artisanal preparation process of pumpkin ice cream begins with cooking the pumpkin, which is then blended to obtain a velvety puree. This puree is mixed with fresh cream, creating a creamy and rich base. Sugar is added to sweeten the ice cream, while autumn spices give that aromatic and enveloping touch that makes pumpkin ice cream unique.
Once the ingredients are mixed, the mixture is slowly cooled to ensure all the flavors blend harmoniously. Subsequently, the base is transferred to the ice cream maker, where it is processed until it attains the creamy and velvety consistency that characterizes RivaReno's high-quality pumpkin ice cream.
The History, Tradition, and Origins of Pumpkin Ice Cream
Pumpkin ice cream, though it may seem like a culinary novelty, has deep roots in gastronomic history. This dessert has charmed the palates of generations with its unique combination of sweetness and creaminess, rooted in the autumnal culinary traditions of many cultures. Pumpkin, with its soft texture and sweet flavor, has long been a star in autumn cuisines globally. However, it is in the form of ice cream that pumpkin reveals its versatility and irresistible charm.
Remaining faithful to tradition, RivaReno drew inspiration from these roots to create a modern and refined version of this winter classic. Every spoonful of its pumpkin ice cream is a tribute to the richness of culinary history, carrying on the baton of a delicacy that has stood the test of time.
RivaReno Pumpkin Ice Cream: A Unique Tasting Experience for Winter
RivaReno's pumpkin ice cream is much more than a simple winter dessert; it is a true work of culinary art that embodies the magic of seasonal flavors. Through a careful artisanal process and an uncompromising dedication to ingredient quality, RivaReno has created a delight that transports consumers on a journey of unique taste.
Let yourself be conquered by the enveloping sweetness of the pumpkin, embrace the irresistible creaminess of this extraordinary ice cream, and immerse yourself in the winter essence with RivaReno's pumpkin ice cream. It's a taste experience that will leave you craving more, a delicacy that enchants the senses, and a culinary masterpiece that will remain etched in your taste memory. Thanks to RivaReno pumpkin ice cream, the magic of winter flavors comes to life in every spoonful.