Chocolate and pears: a delicious combination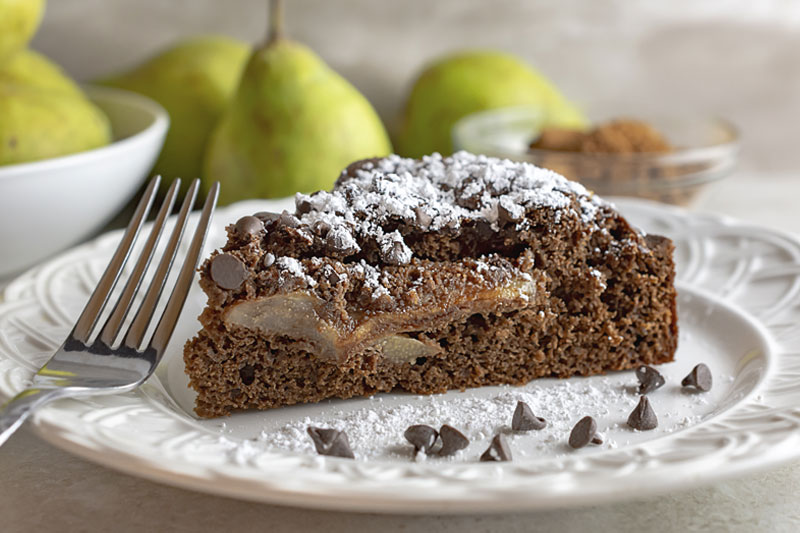 Every sweet tooth will cheer for how good it is the combination of chocolate and pears… we at RivaReno want to create our proverbs and celebrate one of the most successful weddings in the whole gastronomic world: the one between pears and chocolate.
The sweetness of the fruit is enhanced by the bitter note of cocoa in a divine balance suitable for making classic recipes, cakes, biscuits but also spoon desserts worthy of a star chef.
Classic desserts with pears and chocolate: tarts, soft cakes and strudel
When it comes to pear and chocolate cake, everyone has a perfect recipe, whether it is the one handed down from their grandmother or the last one found on the web.
But even the most traditional preparation can become a surprising dessert thanks to a few small tricks.
If there are no children at the table, for example, the pears for the tart can be sautéed with a glass of rum or marsala.
In the tall fluffy cake, on the other hand, you can substitute some of the flour with ground almonds that pair beautifully with both pears and chocolate.
What if you are short on time? With a rectangle of ready-made puff pastry, a few minutes will be enough to make a strudel with raw pear and dark chocolate drops. At the bottom of the dough, crumble some ladyfingers that will not only add sweetness to the preparation, but will also absorb the moisture of the pear, guaranteeing an always crunchy pastry!
Muffins, crumble and other small delights with pears and cocoa
The passion for chocolate and pears goes beyond national borders and gives life to single-portion sweets of international origin.
Pear and chocolate muffins can only bring joy also because they can easily be made quickly in two colors. Once the dough has been prepared, just divide it: in one part you will also add the cocoa, in the other only chocolate flakes and cubes of fresh or candied pear.
And what about small and delicious pear crumble? In winter you can make the classic recipe in the oven, while in summer you just need to prepare a cocoa mousse and layer the ingredients in the glasses: sliced ​​caramelized pear, chocolate mousse and a topping of crunchy biscuits, perhaps some cantucci.
RivaReno's fresh pear ice cream of the day
For each pear recipe it is important to choose the right variety: so, for our sorbet we use only the best Williams, Bartlett and Decane.
Pear ice cream is a concentrate of sweetness and freshness, delicious in combination with cocoa or smothered with hot chocolate, but also suitable to accompany your desserts: serve a ball next to a slice of cake or warm pear tart and chocolate!