The Delectable Surprises of Winter: RivaReno's Ice Cream Flavors for November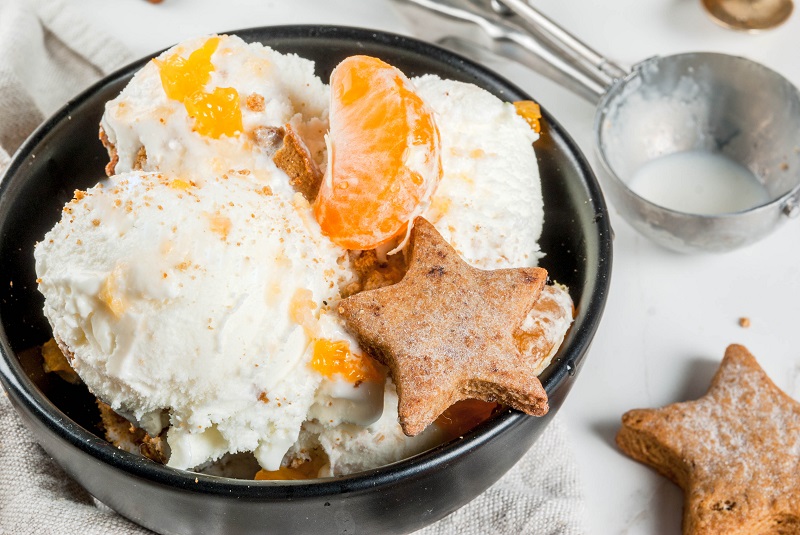 Can't resist the allure of ice cream? Kickstart winter with seasonal artisanal ice cream flavors. From timeless classics to surprising combinations, discover RivaReno's winter creations and let the flavors inspire you, capturing the fresh and enveloping atmosphere of this season.
The Delectable Surprises of Winter: Chilled, Yet Not Too Cold
As winter draws near, many might consider it time to set aside ice cream in favor of hot drinks and more traditional desserts. However, RivaReno, the Italian ice cream laboratory, challenges this notion by presenting a selection of seasonal artisanal ice cream flavors that encapsulate the fresh and enveloping essence of November. For us, ice cream should never be confined to just summer. That's why the products we serve are at a slightly higher temperature than average, ensuring they don't numb the palate with cold.
RivaReno's Ice Cream Flavors for November: A Journey from Classic to Innovative
Renowned for its dedication to producing high-quality artisanal ice cream, RivaReno celebrates winter with an array of flavors that embody the unique atmosphere of November. From classic flavors steeped in tradition to daring combinations that will astonish your palate, RivaReno's ice cream flavors for November aim to please everyone.
Let's begin with the classics, as our ice cream shop presents delightful winter creations paying homage to tradition. Flavors such as hazelnut, crafted with 100% Italian products, and Bourbon vanilla, made with the finest Bourbon vanilla from Madagascar, transport those who indulge in them on a nostalgic journey, capturing the essence of beloved winter desserts. Dark and extra dark chocolate, prepared with the best African cocoa roasted in Holland and single-origin chocolate from Madagascar, further enrich the classic lineup.
However, the true enchantment of RivaReno unfolds with the surprising ice cream flavors of November, leaving even the most discerning connoisseurs speechless. One standout is zabaglione, where the flavor of egg yolk diluted with the finest Marsala Vergine Soleras from Cantine Pellegrino takes center stage, showcasing the mastery of this historic Sicilian company renowned for its exquisite fortified wine production.
Let's not overlook the fresh ice cream of the day, exclusively offered during these seasons, dedicated to those who savor the unmistakable flavor of Piedmontese marron glacé. RivaReno adds a touch of creativity by combining the cream with Agrimontana chestnuts, a historic company from Cuneo, known for its production of candied fruit.
Fruit Ice Creams: Pure Goodness and Flavor
Speaking of fruit, at RivaReno, only real fruit is used. No purees, jams, or synthetic flavors. RivaReno's fruit ice creams boast a fruit content of up to 65%, featuring a simple recipe for an unparalleled taste: water, fruit, cane sugar, with the addition of Sicilian vegetable fibers when they are at their tastiest and juiciest. The result is a product with a creamy and velvety consistency.
Now, let's delve into a roundup of RivaReno's fruit ice creams available on our counters in autumn. Banana ice cream, a year-round favorite, is complemented by the addition of persimmons, typical of this season. To celebrate the autumn colors, we offer a rich and fibrous persimmon flavor made with Apple variety persimmons, known for their gelatinous and very sweet pulp. A suggestion? Pair it with marron glacé for a flavor that will win you over. Additionally, there's mandarin, a timeless classic from December to February, and the pear flavor, available from October, featuring the best quality Barlett, Williams, or Dean pears.
RivaReno's Artisanal Process: Our Commitment to Quality
RivaReno's commitment to quality is evident not only in the exceptional flavors but also in the artisanal process that underlies each creation. Meticulously selected first-choice ingredients combine with the passion and attention to detail of expert ice cream makers to produce a final product that surpasses expectations.
RivaReno is more than just an ice cream brand; it is a commitment to offering a unique experience in every season. November's ice cream flavors exemplify this dedication, showcasing winter flavors that honor the freshness of the period and proving that it's always a good time for ice cream.
From timeless classics to innovative combinations, our winter ice creams invite you on a journey of artisanal flavors that will delight every palate. RivaReno continues to demonstrate that ice cream is a seasonal delight, ready to surprise and delight even in the coldest months. Explore the delicious surprises that winter has in store with RivaReno's November ice cream flavors: a taste of pure artisanal magic.