Ice cream with liqueur: which are the most used?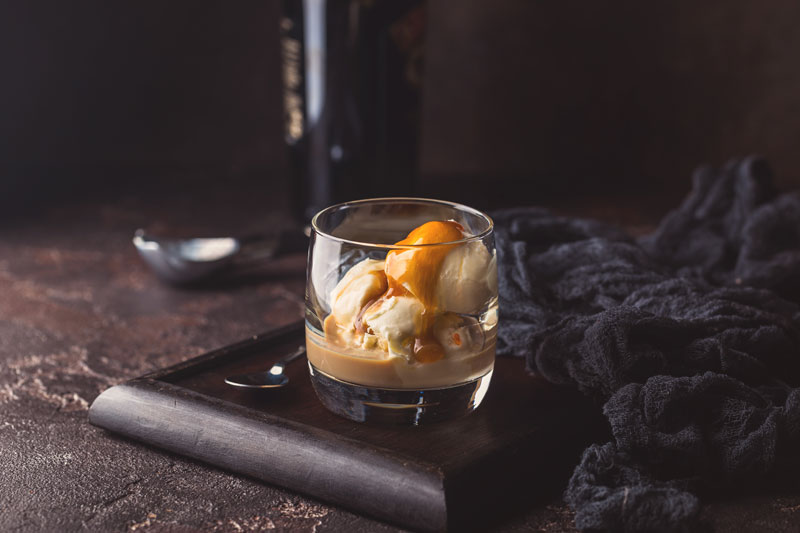 There are so many flavors available that they adapt to any occasion, but ice cream with liqueur is without any doubts the one that best lends itself to becoming a greedy and refined dessert, thanks to the extra touch that the alcoholic aroma can give.
In the art of ice cream making, in fact, there are many liqueur wines or spirits that are used to transform even the most classic flavors into real gourmet specialties: let's discover the most successful ones together!
Liquor ice cream: poached or flavored
The union between ice cream and liqueur can take place in many ways and, by choosing the right combinations, it will always be a success.
The flavored ice cream requires the addition of an alcoholic note during preparation: if, for flavors such as Zabaione, Marsala is an integral part of the traditional recipe, for others, such as Chocolate with Rum, it is a greedy variation on the theme.
The affogati, on the other hand, can be made with both flavored and simple flavors. In the first case it is good to use the same liqueur present in the ice cream, in the second you can indulge yourself with creativity.
Choosing the liqueur for ice cream: its combination for every taste
Whether you choose to drown a scoop of ice cream in an aromatic liqueur or add some during preparation, the rule is always the same: balance the flavors.
Fresh and fragrant flavors such as that of lemon ice cream combine beautifully with liqueurs that take up the fragrance or with dry spirits that enhance it: Limoncello and Vodka above all.
A classic cream, on the other hand, can be embellished by the velvety touch of Whiskey, while the intensity of hazelnut ice cream is enhanced by the sweet notes of Amaretto Disaronno.
RivaReno's orange chocolate ice cream with Grand Marnier
In our ice cream workshops we add a drop of liqueur to different flavors:
for the Cassata we choose the Strega, the Zibibbo for the Mediterranean Cream and we are very proud of the flavor that Marsala gives to Alice, undoubtedly one of our most popular specialties.
We think, however, that a glass of Grand Marnier is the real secret to transform a delicious ice cream like the Orange Chocolate one into a true masterpiece. Intense, refined and very fragrant, Grand Marnier is in fact a blend of flavored cognac thanks to the orange peel that enhance the intensity of the cocoa.
What are you waiting for to taste it? Now we also bring it directly to your table thanks to the delivery service!