Sicilian granita: typical tastes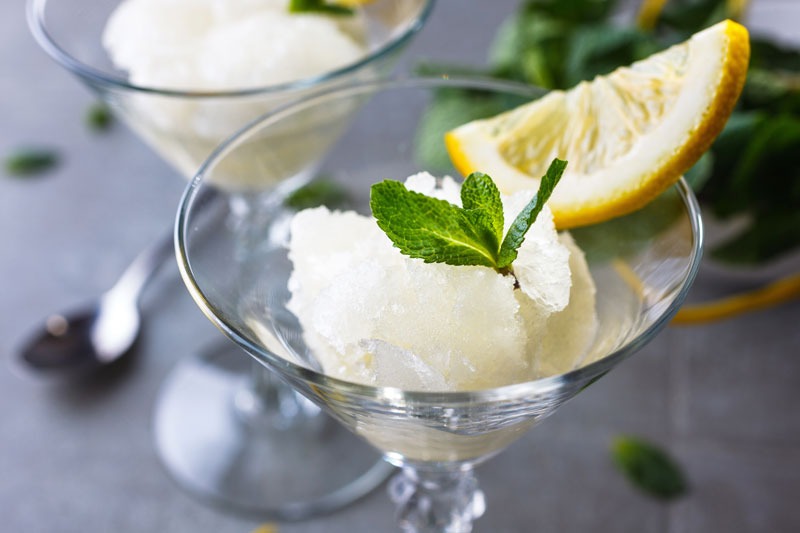 If all of Italy is famous in the world for its culinary specialties, there is one region in particular where goodness is truly countless: Sicily.
And among cannoli, arancini and cassate, she stands out: the Sicilian granita.
Much more than just crushed and flavored ice, a real greedy, fresh and thirst-quenching creaminess that can be chosen in many typical flavors, alone, with cream or in the traditional brioche with tuppo.
How is Sicilian granita made? The traditional recipe
The Sicilian granita is soft as snow, and it is certainly no coincidence.
The ancestor of this delicacy is a recipe that dates back to Magna Graecia: during the winter the snow of Etna was collected in the niviere, so that it could be savored in the summer, with the addition of fruit.
Today, to obtain a light granita like the original one, you can use an ice cream maker or mix the mixture every 20 minutes in the cooling phase.
This foresight serves to break the largest ice crystals so as to preserve the velvety consistency of the Sicilian granita.
Granita with lemon, coffee and almond: the Sicilian tradition for breakfast and beyond
When you think of Sicilian granita, the first unmistakable flavors that come to mind are lemon, coffee and almond, without a doubt.
Three great classics, widespread in every part of the region and ideal for delighting the palate with few calories at any time of the day.
But the granita lends itself to infinite variations: another traditional delicacy is the mulberry blackberry flavor, not to mention the pistachio, a typical agri-food product of the area.
In summer, then, green light for the juiciest seasonal fruits: watermelon, melon and the timeless and extremely refreshing mint.
RivaReno granita: always fresh during the day
Even our ice cream laboratories, in the hottest months, cannot resist a delicious Sicilian granita prepared with simple and genuine ingredients.
Real fruit, water and brown sugar: the secret of an excellent granita is all here.
You can taste the RivaReno granita in many flavors, from the classics to the most original ones: the strawberry one is ideal to kick off the summer, peach, pink grapefruit and bergamot will quench your thirst on the hottest days and, for an original aperitif, you can choose between mojito and pina colada, two truly surprising specialties.
Still undecided? Taste them all or combine two flavors just like you would a nice ice cream cone!