Snacks for kids in our gelato shop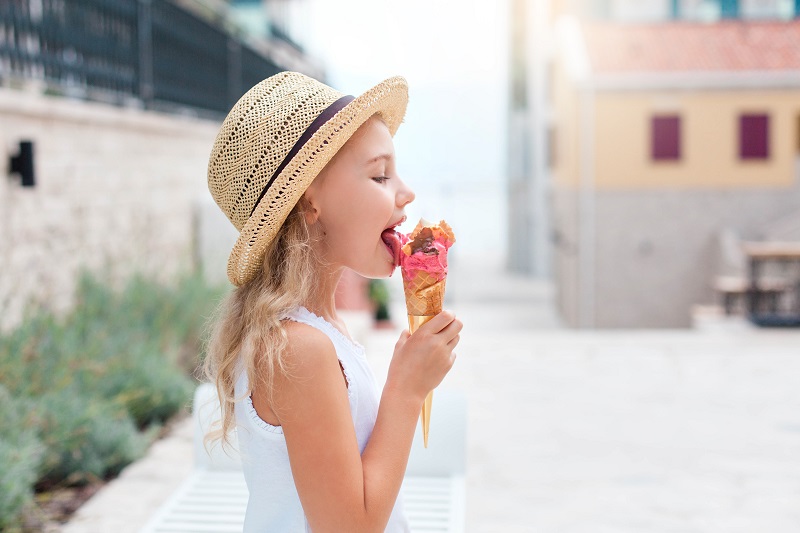 Children use a lot of energy for their activities: that's why it is important to give them healthy and delicious snacks. Here are some ideas for perfect snacks for kids, also in our ice-cream shop!
Here are some quick and healthy snacks for the little ones
Are you looking for a quick and healthy snack for your kids? The most classic one is fruit, but it needs to be presented in a fancy and tasty way. For instance, you can combine wild berries, slices of pear or apple and lemon juice (so that they do not turn black). A further idea for an excellent and enticing fruit salad for the little ones consists of dark chocolate chips, peach and orange juice. Why don't you try some quick and healthy snacks like homemade flavoured crackers or vegetable muffins? For alternative snacks we suggest you create a mix of dried fruit -dried apricots, some nuts, hazelnuts and almonds. You can even use them to prepare a raisin and nut cake flavoured with oranges or an energy bar with almonds filled with jam.
Finger-licking afternoon snacks
Focaccia is among the most appreciated afternoon snacks, but why don't you try its sweet version? Another classic snack is grilled sandwich with ham and cheese. It is easy to prepare and very nourishing. Among the afternoon snacks from the Canadian tradition here are the so-called "pancakes", usually served with maple syrup. Alternatively you can opt for chocolate sticks, made with grissini covered with chocolate and sprinkled with coloured sugar candies.
A snack for your kids? A gelato at Rivareno.
If all our suggestions are not enough, we have the perfect solution for you: is there anything better than a gelato as a snack for your kids? No, there isn't, especially if you choose the gelato lab RivaReno, which offers the opportunity to choose among classic creams, fruit flavours and some specialties. Your little ones will be speechless after tasting the daily fresh  made with fresh fruit and selected ingredients. If you want to find the best snack for your kids, choose among delicious creams, including dark chocolate, cream, milk, gianduja, hazelnut, stracciatella and yogurt, just to mention only some of them.