Sweet recipes with sesame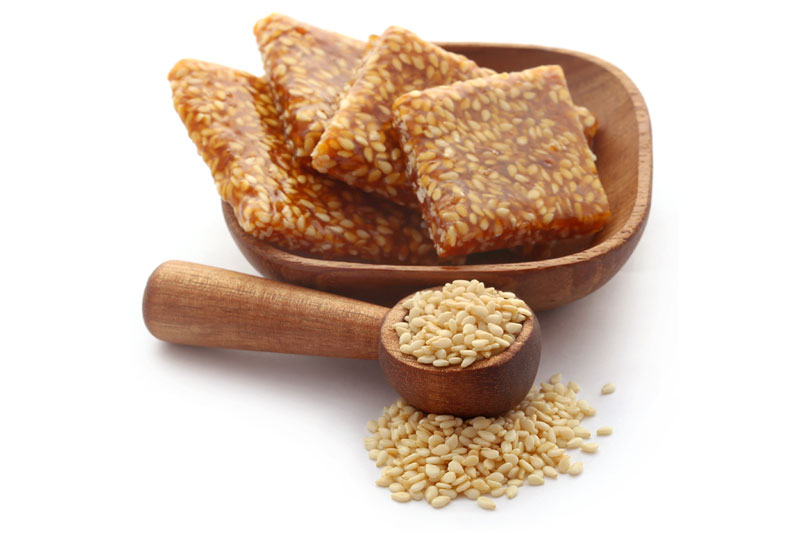 Sesame is a plant grown in tropical regions. It produces seeds that are used for food: they can be eaten whole, hulled, dried, toasted … In short, in practically all ways. In addition, they are an excellent raw material aimed at the extraction of edible oil (a process during which a squeezing residue is obtained that is very similar to hazelnut flour: it is sesame flour). Sesame seed oil (which when refined is light yellow in color, has no odor and has a pleasant taste) is a very important food for Indian and African populations: it has the same value for them as for us the EVO oil – both in terms of uses and appreciation.
Today, the consumption of sesame seeds and derivatives is constantly growing even in the West, and there are more and more delicious recipes with sesame.
Here are our favorite sesame dessert recipes.
Sicilian sesame biscuits recipe
If you love the flavors of Sicily, from wines to granita, without forgetting the almond paste, then you cannot fail to taste the sesame biscuits.
The recipe for Sicilian sesame biscuits (Regina biscuits) is simple, you need:
500 g of flour 00;
150 g of butter or lard (butter makes them softer, lard more crunchy. You can also use 100 g of butter and 50 g of lard);
150 g of sugar;
150 g of toasted sesame seeds;
30 ml of milk at room temperature;
2 eggs;
1 sachet of vanillin;
5 g of ammonia for sweets;
1 pinch of fine salt.
Toast the sesame seeds in a pan or oven and set aside. Mix the flour, salt, sugar and ammonia for cakes in a bowl, and then add the softened butter (or lard), mixing well. Continue to knead the ingredients and add milk, eggs and vanillin. Mix until you get a smooth and soft dough, which you have to leave to rest in the refrigerator for an hour, wrapped in cling film.
After an hour, remove the dough from the fridge and divide it into small pieces in the shape of cords of about 5 cm. Cover them with sesame on each side, line a baking sheet with parchment paper and place the biscuits on top, which must be cooked for 25 minutes at 180 ° C in a preheated oven. Check the cooking and make sure they are well browned.
Crunchy sesame recipe
Not everyone knows, but the sesame brittle recipe is easy and can be made comfortably at home, they serve:
200 g of sesame seeds;
100 g of honey;
100 g of cane sugar;
50 g of almonds.
Pour the honey into a saucepan, keep the heat very low and let it melt. Then add the sugar, mixing with a wooden spoon. Once it comes to a boil, add the sesame seeds and continue stirring for 5 minutes. Coarsely chop the almonds and add them to the mixture in the saucepan, then cook for 25 minutes over low heat, stirring occasionally. Take a sheet of parchment paper and turn over the preparation, which you need to cover with another sheet. Level the surface with a rolling pin until you get a sheet about 3 mm thick, which you then go to cut into small rectangles. Before tasting, let the sesame bars solidify.
Sesame ice cream
The RivaReno ice cream laboratory knows the characteristics of sesame well, and combines it with saffron, creating a unique, refined and delicate taste. The sesame seeds are caramelized and give an unusual but extremely delicious flavor. Try it out!