The properties of hazelnuts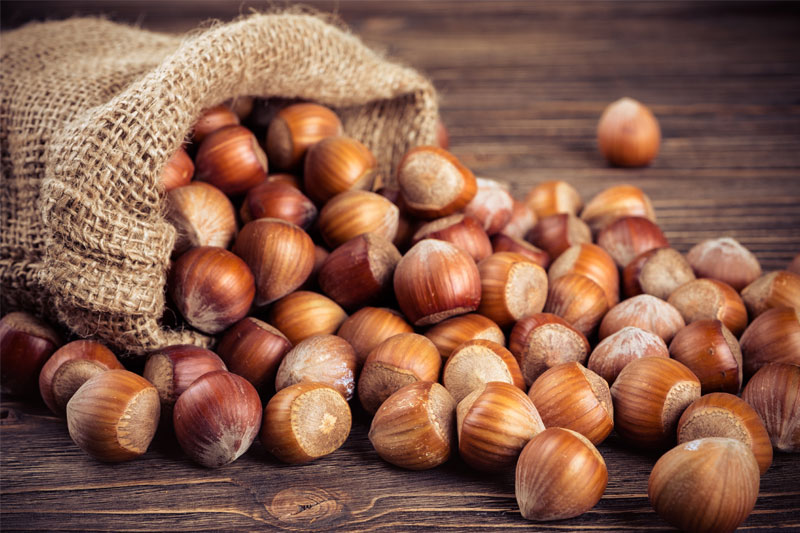 That dried fruit is a kind of superfood is what is now known, but every fruit with shell provides specific benefits.
The properties of the hazelnuts, for example, are so many thanks to the precious substances in them contained.
In Italy, among other things, we are particularly lucky because from Piedmont to Sicily we have lots of varieties of hazelnuts, many of which marked by DOP and IGP: each with a unique taste and with their own features.
Hazelnut benefits: nutritional values
First of all, the hazelnuts are very good, extremely digestible and useful for health, thanks to the view of trace elements (as potassium, calcium, phosphorus and magnesium) and vitamins.
The abundant presence of vitamin E, in fact, gives hazelnuts a high antioxidant capacity that contrasts cellular aging and free radicals. In addition, this vitamin group, present in the hazelnuts in greater quantities than in olive oil, it is a precious ally to reinforce the walls of the capillaries.
Furthermore, the hazelnut also has a good content of Vitamins B, B6 in particular, fundamental in the development and maintenance of the nervous system, as well as of great help to strengthen the immune system.
The hazelnuts: nutritional values ​​and calories
The hazelnuts have a high calorie intake, it is true, but most of the fat contained in them are monounsaturated and, in particular, present in oleic acid.
It is precisely the properties of this substance to be fundamental in the prevention of cardiovascular diseases: oleic acid is, in fact, a sweeper of bad cholesterol that helps keep blood vessels strong and healthy.
In addition, if it is true that with hazelnuts it takes a discreet quantitative of calories, it is not said that this necessarily acts a weight gain.
In fact, oily fruit seems to accelerate metabolism and guarantee a sense of prolonged satiety.
Hazel ice cream but not only: all RivaReno tastes with hazelnuts
Whether it is classic or specialty creams, our passion for hazelnuts guided us to create intense flavors now cult.
Traditional and delicious tastes such as hazelnut ice cream or gianduja, in fact, are wonderfully approached with more sought after flavors.
This is the case of Countess, our creation with Piedmont Hazelnut Pasta, of Gran Torino, a delicious combination of Gianduja Fondante and Salt of Trapani and also of our most loved taste: the Cremino Rivareno.
Have you ever tasted it? Today we can take it to your home thanks to the delivery service!