The goodness of sweet and salty taste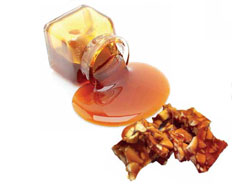 Have you ever had a languor for something that is not definable … something that sweet and salty at the same time? It has nothing to do with indecision it is a well-defined taste: a sweet cuddle made special by that pinch of salt that remains in the aftertaste and enhance its flavour. We think we know well what could satisfy this particular desire: our crunchy caramel ice cream.
Care of times and doses: the birth of salted caramel
Making caramel might seem like child's play: what could be simpler than letting sugar melt? This way it seems like a job that works on its own, also because the list of ingredients is really all here. But it's not exactly that easy. In our laboratory, the ice-cream masters work to create a very special caramel, taking care of the right amount, temperature and time. After creating this particular recipe, it took only a single taste to understand that this sweetness needed its right accompaniment. The search for the sweet and salty taste was not yet finished, there was still an ingredient to give life to the salted caramel of our dreams.
Those little extras that make everything delicious: caramelized hazelnuts
The caramel needed a right ingredient to achieve the perfect taste, an ingredient able to combine sweet and salty. We immediately thought of our Italian hazelnuts as the most fitting combination, perhaps thinking of traditional Christmas nougat or maybe simply because we know how much the pralines inside the ice cream make all the greedy go crazy. And then let's face it: Italian hazelnuts are really the best in the world, it's impossible to give up a generous cascade of caramelized hazelnuts.
A classic taste for a particular ice cream
We are convinced that our master artisans have managed to make a real little miracle of taste: combining the classic taste of caramel with a new twist to create a particular ice cream with a sweety, salty and at the same time crispy taste. You can immediately perceive it from sight and smell even before tasting it: are you able to resist in front of that spectacular variegation of the caramel, to which the toasted notes of the hazelnuts are added?