The crêpe with gelato, a super sprint snack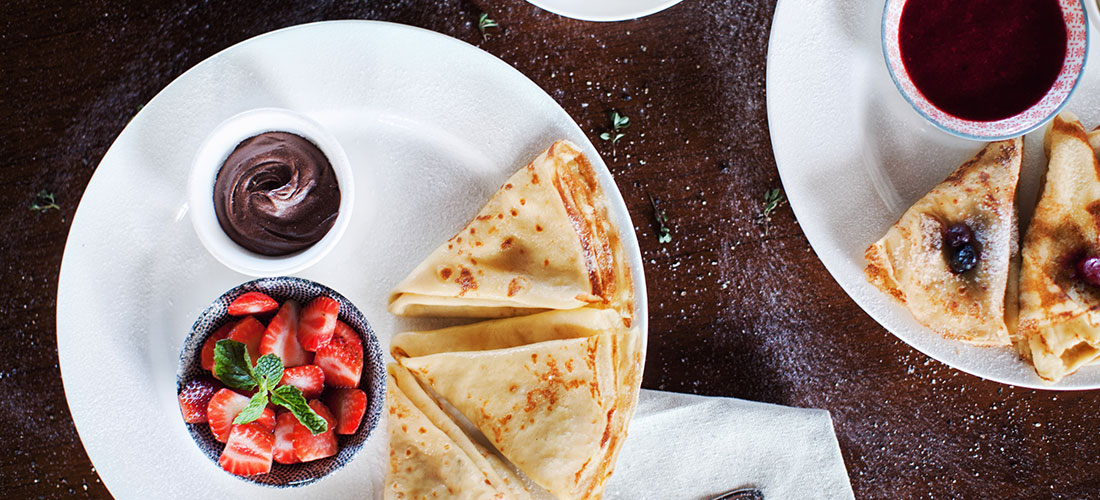 The RivaReno gelato shops, in addition to its fresh tastiness, also offers delicious crêpes which can be made even more decadent with gelato in a choice of delicious flavours. This is a heavenly snack which hits the perfect spot and promotes energy recovery. Surrender yourself to the incredible taste of a crêpe with a delicious filling and covered with velvety gelato made fresh daily.
The Crêpe, a traditional French recipe
Crêpes are a classic recipe of French gastronomic tradition; the origin of this delight can be traced back to Candlemas Day, which falls respectively on the 2nd of February: according to tradition, every French family gathers around the table on this day to celebrate the anniversary.  The name Chandeleur and the combination of the festival with the famous dessert originates from the union of Roman and Celtic tradition. The first crêpes cooked by the Celts represented the Sun Disk and symbolised gratitude to the gods for having granted the people a generous wheat harvest.
An energy snack to regain energy and good spirits
The RivaReno laboratories created a myriad of different specialities that you can enjoy inside a soft crêpe; it is an energy snack perfect for recharging your batteries and recovering your energy to face the second half of the day. The RivaReno gelato shops offers its customers fresh artisan gelato of incomparable goodness, based on products with high quality standards.
The crêpe: good on its own, excellent served with RivaReno fresh daily gelato
The daily fresh gelato made in the RivaReno laboratories stands out as a delight of unsurpassed quality, able to conquer the palate thanks to its unique taste and consistency. It is no coincidence that the RivaReno gelato has received numerous awards and prizes over the years from national food critics. What are you waiting for? Treat yourself and savour our crêpe with gelato and indulge in the pleasure of temptation right from the first bite.