The properties of pistachios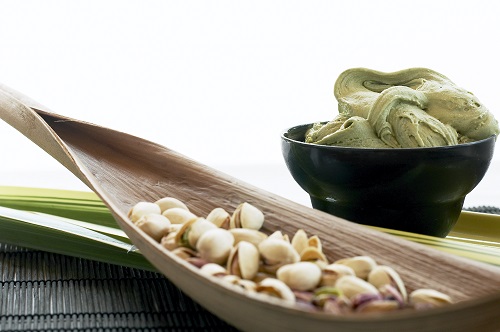 RivaReno uses the best pistachios from Sicily, Greece, Iran or Turkey depending on the year, to produce a gelato with exceptional flavour. The selected ingredients not only give intense pleasure to the palate, but also bring great benefits to the body. Among the properties of pistachios, there are, for example, various antioxidants and nutritious benefits, which help you to live better and with good taste.
The benefits of nuts and pistachios
The many properties of nuts, including pistachios, are known to all. These foods are actually highly nutritious as they are rich in minerals, fibre, vitamins and the essential omega 3 and 6 fats.  Unsurprisingly, walnuts, peanuts, pistachios or almonds are commonly recommended in low-calorie diets aimed at weight loss or maintenance and, in general, in an healthier lifestyle. The benefits of nuts are abundant and each has a unique peculiarity.
The pistachio, for example, is rich in antioxidants, such as beta-carotene, lutein or zeaxanthin, which counteract free radicals and slow down cellular ageing. This invaluable food also contains phytosterols, able to reduce bad cholesterol, gamma-tocopherol, invaluable for the health of the heart or due to its high concentration of vitamin B6, which is essential for various functions of the nervous system. Recent studies have also shown that regular consumption of pistachios in moderate amounts is able to control blood glucose levels in patients with diabetes.
The Sicilian DOP pistachio
We at RivaReno use only the best ingredients for making our artisan gelato. Each ingredient is carefully selected from our best suppliers in order to guarantee our customers a full, tantalising and, above all, authentic flavour. Even for pistachio gelato we wanted to reach the very top, arriving in Sicily, the land of sun, sea and delights and home to the very famous pistachio from the area of Bronte.  Bronte, in the province of Catania, is particularly known for this precious product, which is defined as 'green gold' for its exceptional goodness and its intense flavour: characteristics that have made it famous all over the world.
RivaReno pistachio gelato
Pistachio lovers simply have to take a look inside our gelato ice shop attached to our laboratorio and try our exclusive gelato created with this ingredient. In our laboratorio, we have succeeded in reproducing the authentic flavour of this nut, even in the version free from milk and its derivatives. The result is a pistachio gelato with a full and intense flavour, made daily fresh, perfect for vegans and low in calories.