Properties of melon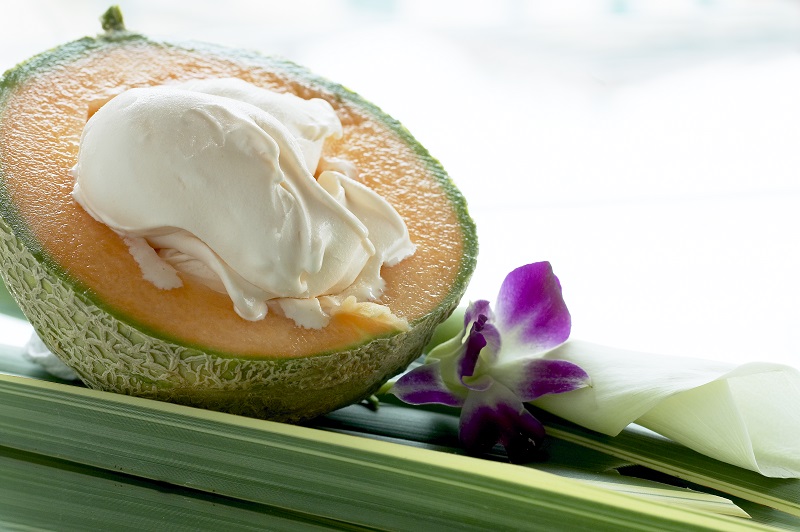 From May to September, the Rivareno Italian gelato laboratory offers you delicious gelato made with melon, a fruit with remarkable properties. Surrender to the incredible taste of our melon gelato and enjoy a relaxing moment on hot summer days. Present on our tables during the hottest months of the year, the melon is rich in minerals and can have a valuable role in maintaining a balanced and light diet. Let's discover together the properties and benefits of this fruit.
The calories and nutritional values of the melon
Concerning the number of calories present in melon, 100 grams of the fruit contain 33 kcal/137 kj. Extremely low in calories, melon is the perfect fruit for those who want to lose weight and for those who are following a diet. Extremely refreshing, thirst-quenching and diuretic, this fruit is mainly composed of water (about 90 percent). About the properties and nutritional value of the yellow melon, we can say 100 grams of fruit is 89.6 percent carbohydrate, 8.4 percent protein and 4.7 percent fat.
The nutritional properties of the white melon
The white melon has important nutritional properties: the fruit contains many minerals and vitamins, particularly potassium, phosphorus, calcium, vitamin C and vitamin B3. Melons also contain melon niacin, a substance with important antioxidant properties. Thanks to the presence of phosphorus and calcium, the melon is also good for the bones. Despite being low in calories, this fruit is particularly rich in fibre and is therefore able to satiate. For this reason, many people who follow low-calorie diets programs choose to eat melon. Very good to eat, the melon is also used on the skin: indeed, the fruit is used to make natural facemasks.
Yellow melon ice cream against the summer heat
For combatting the heat of summer, there is nothing better than gelato with a natural and refreshing taste. In addition to the classic melon, the classic fruit flavours such as watermelon, lemon, strawberry and pineapple are always in demand. Over the years, however, "alternative" flavours have appeared. These include basil, cherry tomato, cucumber and mint or fennel, which are also ideal for pairing with savoury dishes.
Whatever your favourite flavour is, when summer gets hot and the heat is oppressing you, indulge in the incredible freshness and taste of Rivareno fruit popsicles; all our products are prepared at the gelato laboratories adjacent to each shop.