The calories in hazelnut ice cream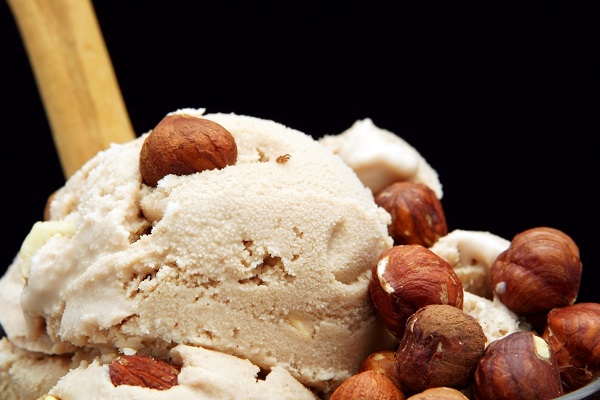 Hazelnut is one of the timeless tastes of gelato: a creamy classic that combines the richness of milk with the delicate and persistent aroma of hazelnuts. The recipe for gelato made with hazelnuts involves the use of very calorific products: so can those who are paying attention to their diet, as well as to flavour, include hazelnut gelato in their diet? Let's get to know the properties of hazelnut better, so we can enjoy that moment of soft sweetness even more.
Piedmontese hazelnuts IGP, the quality that makes the difference
Piedmontese hazelnuts are the most used in confectionery: the Tonda Gentile Trilobata variety is recognised as a Protected Geographical Indication (IGP, using the initials in Italian) for the particular characteristics that are bestowed on it by its cultivation in the environment of the provinces of Cuneo, Asti and Alessandria. The long exposure to the sun on the hills of Langhe, Roero and Monferrato gives these nuts a smooth flavour and a chemical composition which promotes their conservation, made more lasting by the harvesting process that respects their spontaneous maturation, and by subsequent drying. Always peeled after roasting, this hazelnut becomes the basis for oils, flours and creams, as well as an excellent alternative to chocolate: a raw material available to everyone that can turn into a homemade hazelnut gelato, thanks to the purity of its genuine, natural ingredients.
Properties of hazelnuts: the energy of the earth for your well-being
The hazelnut is the fruit of a tree considered magical since antiquity: it is said that Piedmontese diviners and witches broke off its branches to make their wands. Science also confirms the properties of the hazelnut: it provides amino acids, the molecules that make up proteins, and vitamin E, which counteracts the effects of aging. The energy value of hazelnuts, equal to about 700 kcal per 100 grams, comes almost half from oleic acid, similar to that of extra virgin olive oil: a fat that helps to keep bad cholesterol levels low, protecting cell membranes. Even if hazelnut gelato's calories seem high, the benefits of the Piedmontese hazelnut are worth a small transgression in the diet!
Hazelnut ice cream: the recipe, from tradition to RivaReno
RivaReno's fundamental criterion for the choice of ingredients for each dish is the quality of the raw material. Hazelnut gelato is no exception: for this the laboratory of Italian gelato mixes only Tonda Gentile Trilobata hazelnuts with Italian milk from the upper Cuneo, together with cane sugar to create an intense, velvety recipe for hazelnut gelato like no other!