Bacio di Dama: original recipe and curious facts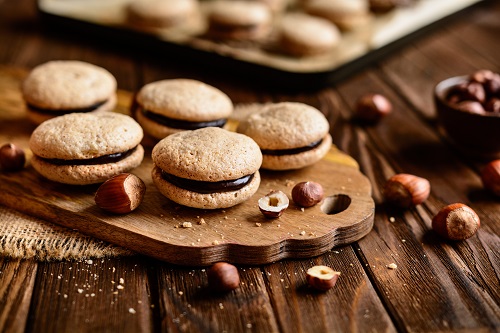 Among the typical biscuits of Piedmont, there is the famous "lady's kiss", which for centuries have delighted the palate of those with a sweet tooth. So, what is behind this label? History, as often happens, mixes with legend and brings about real anecdotes which, in this case, concern the Savoy family.
In fact, it is said that, in 1852, King Vittorio Emanuele II asked the court chefs to present him a new dessert with a different flavor and appearance. The chefs, then, immediately set to work and the famous lady's kiss was born from mixing flour, sugar, eggs and chocolate. The curious name derives from the shape of the biscuits that look like two lips joined in a romantic kiss with a chocolate seal. According to others, however, the name could derive from the fact that the shape of the biscuit resembles the lips of a girl about to give a kiss (the kiss of a lady, in fact).
Bacio di dama: discovering the original recipe
The original recipe of the lady's kiss involved the use of Piedmontese hazelnuts, much easier to find and also less expensive than almonds, which later became part of the preparation. The new recipe was then invented in 1810 by Cavalier Stefano Vercesi who replaced hazelnuts with almonds by patenting the so-called "golden kisses", which in 1906 won the Gold Medal for Pastry.
Today there are several varieties in the market, such as the so-called Baci di Alassio (with added cocoa and honey).
Rivareno's Kiss of Lady ice cream
Il bacio di dama also inspired the Rivareno's Ice Cream Master Chefs, who fully captured the Piedmontese gastronomic tradition and craft, by creating an ice cream flavour adored by everyone, young and old. For its realization, only the best raw materials are selected: high quality hazelnuts, certified mountain milk and cane sugar. Not to mention that, to offer its customers an out-of-the-ordinary taste experience, RivaReno uses the famous lady's kisses from Fabrizio Giamello's "La Dolce Langa" pastry shop. The result is a delicacy with a velvety texture and a full and enveloping taste.