Brownies: American recipe and other variations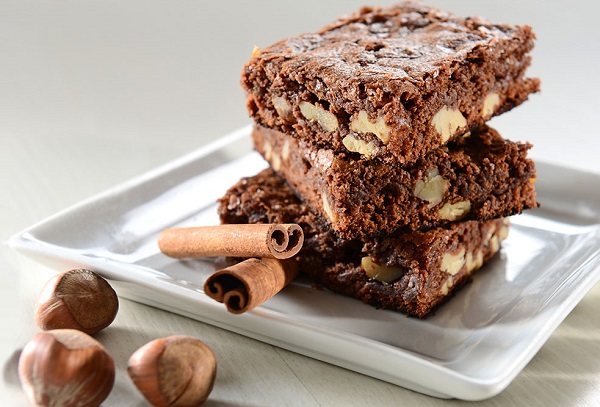 Brownies are chocolate desserts with a soft heart and a crunchy crust. The curious name derives from their characteristic brown color. According to the original American recipe, for excellent brownies you need: eggs, sugar, flour, cocoa, butter and dark chocolate. According to some, this delicacy is due to Bertha Palmer, a woman of the 1893's Chicago bourgeoisie, who asked her confectioner to make a dessert as good as a cake, but as practical as cookies, so that it was easy to carry around. From that moment on, the chocolate cake, cut into squares, gave rise to the brownies, that then became famous throughout the United States and beyond.
Caramel brownies
The famous chocolate squares make your mouth water just by looking at them. The fragrance is intoxicating and just take a bite to appreciate all the yumminess. Another variation of brownies involves the addition of salted caramel in the dough: the delicate contrast between the sweetness of the chocolate and the salty note of the caramel brings, to those who appreciate it, a tasteful and never dull experience. Texture also plays a decisive role: a bite is enough to break the crunchy crust and sink your teeth into a soft caramel heart. And for those who want to add to the pleasure, and to delight the palate with an explotion of flavours, we recommend combining the brownies by RivaReno laboratories with a nice cup of hot chocolate … the best way to keep warm when the temperatures drop!
Brownies with fresh ice cream of the day
According to the traditional recipe, the brownies should be nut-free. There are, however, other delicious variations that contain nuts. Others include icing, chocolate flakes, mint or vanilla. Delicious on their own, they are excellent when accompanied with fresh ice cream of the day in your favorite flavor. At RivaReno, you can choose to top your brownies with ice cream with a velvety texture and full-bodied flavour. What are you waiting for? Treat yourself to a sweet pleasure!