Coconut in your diet: an explosion of vitamins and minerals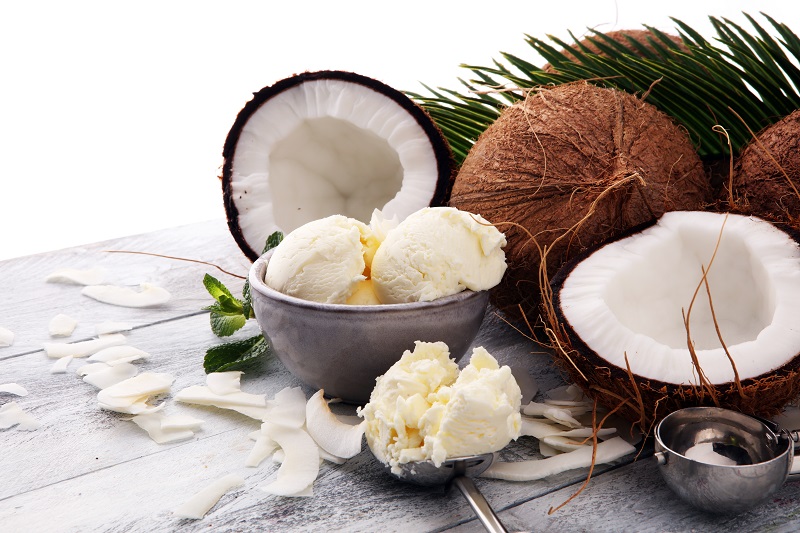 Coconut is among the most loved exotic fruits. It is very rich in nutritional content and in beneficial elements. It is also a key  ingredient in the food and cosmetic industries. Thanks to its special refreshing and delicate flavour, coconut is also one of the preferred ingredients in the summer diet of people with specific nutritional needs.
The nutritional properties of coconut
Coconut is renowned as a fruit with important nutritional properties. In fact, it is an excellent source of minerals such as iron, phosphorus, magnesium, potassium and calcium, and a source of vitamins B, C, E, K. Coconut is made of 50% water, which makes it one of the most hydrating ingredient, especially in the warmest seasons of the year. Furthermore, it is cholesterol-free, as well as being one of the most protein-rich fruits: 100 g of pulp contains 3.5 g of protein, a very high value if you think that most fruits do not reach 1 g.
Slimming and hydration: the benefits of coconut
The benefits of coconut are several: for example, the water contained inside has refreshing, purifying and hydrating properties; its pulp, however, is rich in fatty acids and proteins, making it an excellent aid for those who want to loose weight and for athletes. In fact, fatty acids and fibers accelerate the body metabolism, by promoting a sense of being satiated  and gastrointestinal balance. Proteins, on the other hand, improve athlets' performance and reduce fatigue. The healing properties of this extraordinary fruit are also remarkable: as well as great anti-inflammatory, antiviral and antibacterial properties, coconuts help to keep blood pressure and cholesterol under control. Coconuts also contain lauric acid, a substance found mainly in breast milk, which helps brain development. All these beneficial properties make coconuts the ideal aid in your daily summer diet.
Ideas for coconut summer desserts
Chilled coconut desserts in the summer are the best and tastiest options to enjoy the many benefits of this precious fruit. Making pralines and cheesecakes, for example, is an excellent refreshing option for delicious snacks. RivaReno ice cream parlours also use coconut to make slushes, popsicles and sorbets: the most refreshing and light options. However, for the sweet tooth RivaReno has also created a creamy chocolate-flavoured ice cream with milk and coconut flakes. In our parlours you will find a wide selection of coconut based products,  which you can enjoy as snacks, or as desserts to complete your lunch and dinner or, why not, as a healthy and refreshing alternative to a summer meal.