Croquembouche: history and curiosities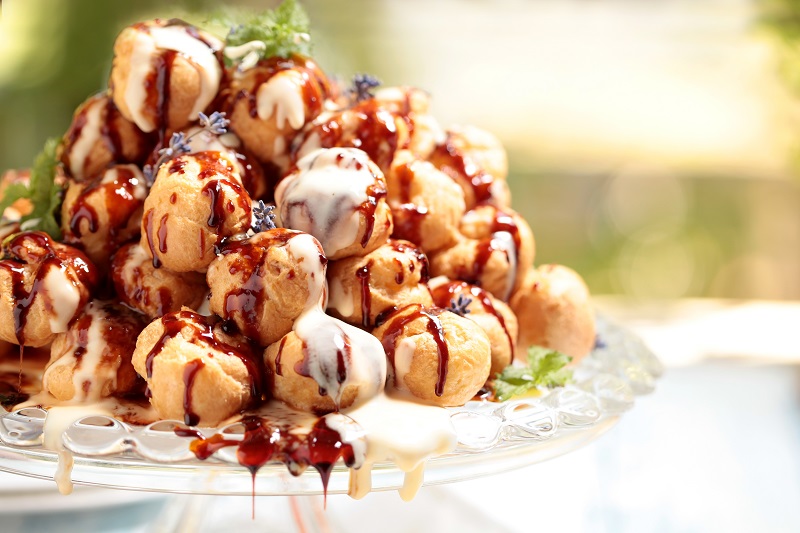 Grand, spectacular, imposing: Croquembouche is one of the finest and most iconic desserts of the French confectionery tradition.
Monsieur Croquembouche, who we would call Mr Crunchy In Bocca, in fact, is a true institution of French cuisine: a complex dessert to be made, magnificent to look at and which is usually reserved for particularly important occasions such as Christmas celebrations or weddings.
The Croquembouche cake: the origin of French haute cuisine
The Art de la Cuisine Française established the principles of French haute cuisine in 5 volumes published in the 1830s and its brilliant author, Marie Antoine Carême is none other than the inventor of Croquembouche.
No wonder that such a refined dessert has a father so famous and appreciated even by the most powerful men in the world.
In fact, Carême brought his passion for grandeur in the kitchen to the tables of princes, emperors and sovereigns such as Talleyrand, Tsar Alexander I and even George IV of England.
The story of Marie Antoine and her Croquembouche has little to do with those culinary tales in which mistakes, oversights and randomness are mixed: it is the narration of legendary meticulousness.
The Croquembouche recipe
Croquembouche is 'simply' a pyramid of puffs filled with custard, Chantilly or whipped cream wrapped and supported by strands of exquisite crunchy caramel.
The preparation is undoubtedly complex and articulated: first you need to prepare the choux pastry and bake the puffs, which will then be stuffed and dipped in caramel.
To position them with the necessary precision, cone molds or folded cards are usually used, in order to obtain the perfect shape.
Finally, only the hands of a true artist will be able to shape very thin strands of caramel to wrap the monument of pastries and create a beautiful nest of goodness.
The majesty of the aesthetic impact is, in fact, an integral part of the Croquembouche, so much so that Monsieur Carême even needed one meter high!
RivaReno Crunchy Caramel ice cream
If you are fond of caramel but not exactly a starred chef, there is no need to despair.
We at RivaReno have created a fresh ice cream of the day that combines the creamy consistency of salted caramel with the crunchy texture of hazelnuts in a truly unique delight.
In addition, to intensify the flavor, before combining the two basic ingredients we caramelize the hazelnuts, so that the taste is more intense and the crunchiness ensured.