Ganache: history and uses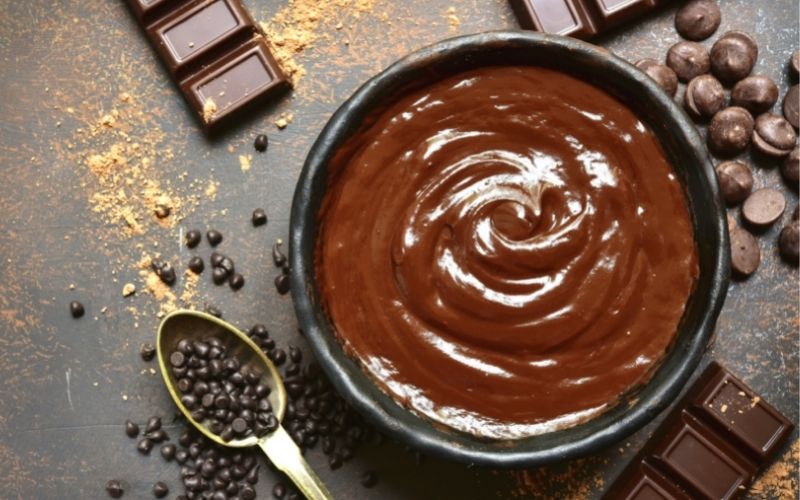 Ganache is much more than a simple cocoa cream: it is a soft and rich cream-based and pampered delight that lends itself to many uses in pastry.
If all this were not enough to want to know more, let's also add that ganache has a really interesting history: let's get to know it better!
In praise of imbecility: the story of cream ganache without cream
If someone in a family across the Alps is addressed as 'ganache' they are not getting a compliment. The word ganache, in French, in fact means 'imbecile' or 'clumsy'.
But why does such a delicious and versatile dessert have such a rude name?
In 1920, a culinary tragedy is about to unfold in the kitchen of the famous pastry chef Georges Auguste Escoffier. A young apprentice is intent on preparing custard and, perhaps due to the emotion of being in front of the great master, or due to inexperience, he accidentally overturns a saucepan of boiling milk into a bowl full of pieces of chocolate.
The great maître pâtissier is furious and thunders against the pupil: "Ganache!". The boy bows his head embarrassed, but Escoffier immediately realizes that the mistake is creating a shiny, silky and very good cream destined to have enormous success.
The scene ends with big smiles, pats on the back and the certainty that that name will jump like this, from now on it will also have a completely different meaning.
Classic and whipped chocolate ganache for topping and more: the perfect recipe
Over time, the ganache recipe has become a little richer than the original one: in fact, boiling cream is used to melt and mix the chocolate.
To be precise: 2/3 of chocolate and 1/3 of cream.
If you want to fill cupcakes, cover or decorate cupcakes and soft cakes, however, we recommend making whipped ganache. Once your classic ganache is ready, put the saucepan in a bain-marie in cold water and work the mixture with an electric mixer for about ten minutes.
The main ingredient of the cream, therefore, is always dark, white or milk chocolate but nothing prevents you from creating aromatic ganache by adding orange peel, pistachios or dried and fresh fruit to fill desserts, to be enjoyed with a spoon or to accompany fragrant Biscuits.
RivaReno daily fresh dark chocolate ganache ice cream
RivaReno's maître ice cream makers are certainly not ganaches, but ganache lovers, yes, and a lot!
We therefore tried to reproduce its intense taste and unmistakable consistency in an ice cream and dark chocolate ganache was born, one of our most loved specialties!
Don't you think that an ice cream can really be as delicious as ganache? To prove you wrong, we can only invite you to try it in our ice cream laboratories!