Gelato flavours inspired by songs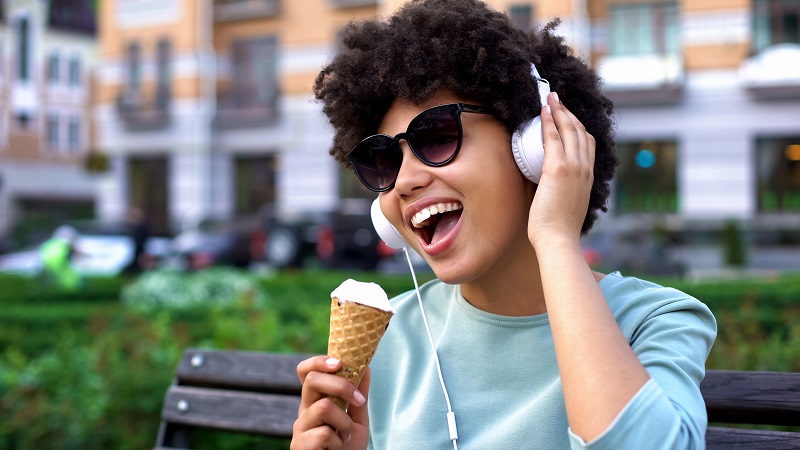 Gelato deliciousness can win over anyone's taste buds: however, various gelato flavours have names that do not only describe their taste. Indeed, there are many types of gelatos on the market whose names are inspired by more or less famous songs.
Let's find out which gelato flavours are dedicated to the most appreciated Italian and foreign musical hits.
Gelatos inspired by Italian hits
Many gelato flavours got their names from more or less recent Italian musical successes. Among the old hits that inspired gelato parlours to create certain flavours are songs presented at the Sanremo Festival such as "Montagne Verdi", "Grazie dei fiori", "Io tu e le Rose", "24 mila baci" and "7000 caffè".
Sassello amaretti and pistachio mousse were used for "Montagne Verdi" while "Grazie dei fiori" was made with Ligurian pine nut cake and pear and lavender jam. The sweetness of canestrelli was combined with a rose infusion, giving life to "Io tu e le Rose", while the combination of the "bacio di Alassio" and hazelnut crumble created  "24 mila baci". For a flavour inspired by Alex Britti's most recent song "7000 caffè", Panera, a Ligurian dessert made with coffee, whipped cream and cream of Baci del Roero, was used.
But there are also names of gelato flavours dedicated to more recent and more powerful musical hits – by Vasco Rossi, for example: "Siamo solo noi" was made with panna cotta and balsamic vinegar and "Non l'hai mica capito" combines Parmesan and pears.
Gelato flavours inspired by foreign hits
Gelato makers were not only inspired by Italian songs but also by foreign hits:  drawing on Canadian culinary tradition, RivaReno used maple syrup and caramelised pecan nuts in its "New York New York" (by Frank Sinatra) flavour.
"Sweet Alabama" is a RivaReno flavour that was inspired by American rock group Lynyrd Skynyrd's song "Sweet Home Alabama". This flavour is made with chocolate and peanut butter, making it a real hit with the young and the old.
Finally, one of the latest delights created by RivaReno is "Strawberry Fields". This is a riot of deliciousness that combines fresh strawberries with velvety mascarpone cream; its name recalls the timeless success of the Beatles.