Gelato in winter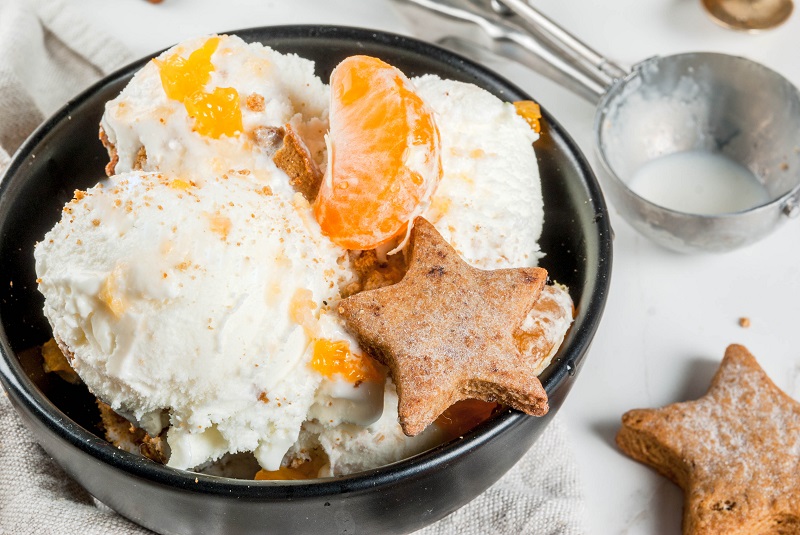 Despite its status as a timeless delicacy, public opinion is divided between those who eat gelato in winter and those who prefer to consume it only during the warmer months. However, we think this is a food that can be savoured at any time of year, provided that seasonal ingredients are used to make it.
Seasonal fruit in winter
It's always good to enjoy fruit in season as it's certainly fresher, natural and tasty. Although summer fruits are most people's favourite, we think there are real delights to be found among winter's seasonal fruits.
For example, we'd suggest the persimmon: originally from China, this fruit with a beautiful orange colour is high in sugar, but also has a high concentration of vitamin C, potassium and beta carotene. For all these reasons, it has diuretic and purifying properties.
Another true star of the winter fruit bowl is obviously the tangerine, a fragrant and juicy citrus fruit that's rich in vitamin C.
Gelato in winter: not just fruit
In winter, it's therefore possible to create a delicious gelato using seasonal fruits, but more besides; in fact, there are other super-delicious ice cream flavours based on other non-fruit ingredients.
Among the various types of wintergelato we'd pick out the Piedmontese nougat created by RivaReno, based on high-quality hazelnuts: a delicacy that cracks between the teeth and fills the mouth with its full flavour.
Once again, RivaReno offers another winter gelato beloved by adults and children, using marron glacé from Piedmont combined with Agrimontana chestnut cream.
Chocolate-covered gelato 'affogato'…the temperature's rising!
For those with a sweet tooth, there's a must-try indulgence: chocolate-covered gelato 'affogato' that combines the thick voluptuousness of hot chocolate with the creaminess of your favourite flavour of the day's fresh gelato. The combination of different temperatures and textures blends perfectly, creating a perfect dessert even in winter, with an intense, rich and naturally velvety taste.