Granita in your diet — yes or no?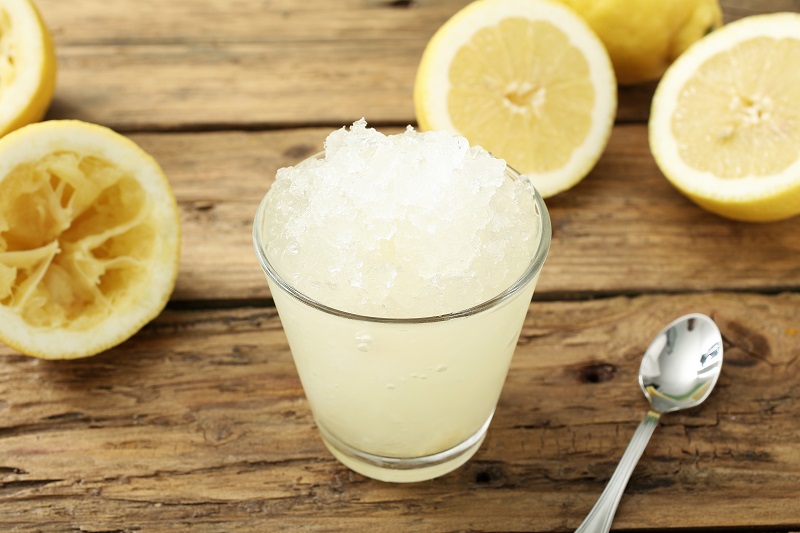 Granita is a refreshing indulgence based on fine water ice, flavoured with fruit juices or teas. This fusion is obtained by the slow, controlled crystallisation of the water in the mixture.  Can granita contribute to a healthy diet? Granita is an Italian delicacy — a refreshing, energising, and absolutely healthy summer dessert. This emblem of Sicilian culinary tradition contains no lactose and is therefore particularly easily tolerated in the diet.
The incredible taste of a fruit granita
Surrender to the incredible taste and aroma of a RivaReno fruit granita, a light, refreshing, healthy dessert — the perfect antidote to the heat of those summer days which will soon be upon us. Our granita is known for its extremely fine consistency. It is an extremely digestible product, boasting less than 150 calories per serving. Our granita flavours range from traditional Sicilian classics, like lemon, almond and coffee, to particularly sophisticated tastes. RivaReno also offers granita in combination with alcohol, perfect for an unusual aperitif — the flavours on offer include Pina Colada and Mojito, made with the best white rum on the market.
The traditional granita recipe
 To make tasty, healthy granita at home, without syrups or dyes, just takes a few simple steps. First, start the granita recipe by dissolving 250 grams of sugar in 500 grams of water with 500 grams of lemon juice (or any other seasonal fruit juice). You should then place the container in the freezer, at a temperature of -15 or -16 degrees Centigrade. After two hours, remove the bowl and scrape the surface, which will facilitate the formation of new crystals. Place back in the freezer, and continue the process until you get an optimal consistency and grain. At the end of the process, you will get a crystalline mass which is, however, extremely soft. But what makes a really special granita, even if it is always prepared in the same, classic way? High-quality ingredients, expertly matched, as taught by RivaReno's master ice cream makers.
The ingredients for a healthy granita
RivaReno's Italian gelato laboratory uses no synthetic syrups or flavours to prepare its granita — just water, cane sugar, and all the authenticity of real seasonal fruit. This delicacy captures all the delights of summer in its flavours, but won't burden the palate with excessively sweet and heavy ingredients. Hydrating has never been more delicious!