Hot chocolate: what are the most popular flavors?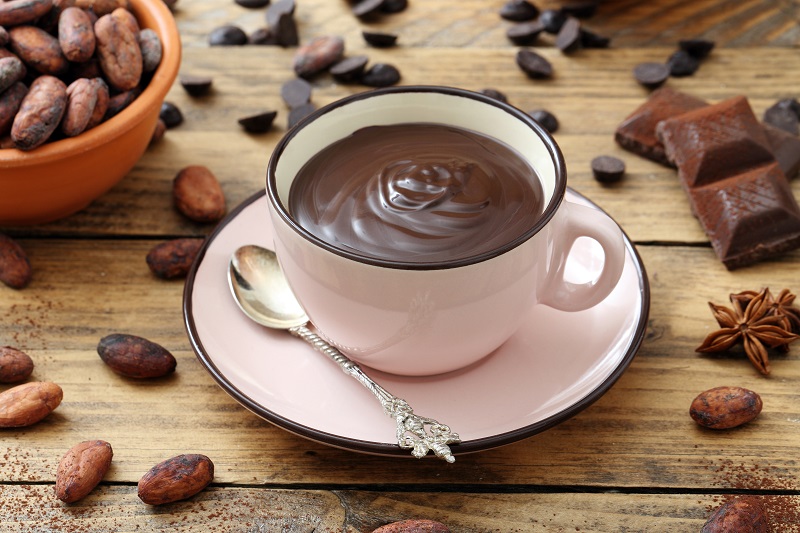 Do gray and gloomy winter days put you in a bad mood? No problem: we bet that a cup of hot chocolate will give you back your smile!
The hot chocolate is just that: a kind of miraculous cure-all, particularly precious for refreshing body and spirit even on the coldest day.
For this remedy for melancholy to work perfectly and in no time at all, however, it is necessary that the drink is of your favorite flavor.
The most popular flavors of hot chocolate
There are different types of chocolate and each gives a unique aroma to the hot chocolate.
If classic hot chocolate, in its dark or milk variant, remains the most popular,
more and more are the admirers of the white one or enriched with spices, fruit and liqueur.
Among the most popular dark chocolates are chilli, coconut, ginger and rum. Strong, spicy and exotic flavors that enhance the bitter note of cocoa.
To enrich a delicious hot milk chocolate, however, hazelnuts and spices with a tantalizing but less pungent taste such as cinnamon, anise or vanilla are more popular, which can also be combined with each other.
White hot chocolate is naturally greedy and its sweet character lights up thanks to combinations with aromatic and crunchy ingredients such as chopped pistachios, toasted almonds or lemon zest.
The recipe for homemade hot chocolate
There are a thousand variations of hot chocolate and as many strategies to prepare it in the home kitchen.
Once you've chosen your favorite base, you'll need to heat some milk without bringing it to a boil.
The liquid will then be poured over the chocolate to melt it, only then are flour or potato starch and sugar added.
Then just bring it back to the heat for a few minutes, taking care to stir continuously, to obtain the desired density.
Hot chocolate with RivaReno cocoa
If you want to let yourself be pampered by a creamy hot chocolate with an intense flavor, our ice cream laboratories will fully satisfy you.
In winter, in fact, we create a mix of cocoa from the Ivory Coast and Zaire to prepare a hot chocolate with a rich taste that is really impossible to resist.
A healthy temptation, perfect for a snack for the little ones and to ensure everyone a moment of absolute relaxation.
If it's really a bad day or you have something to celebrate we will be your accomplices: how about a puff of whipped cream?