Indian mangos: a hint of the exotic!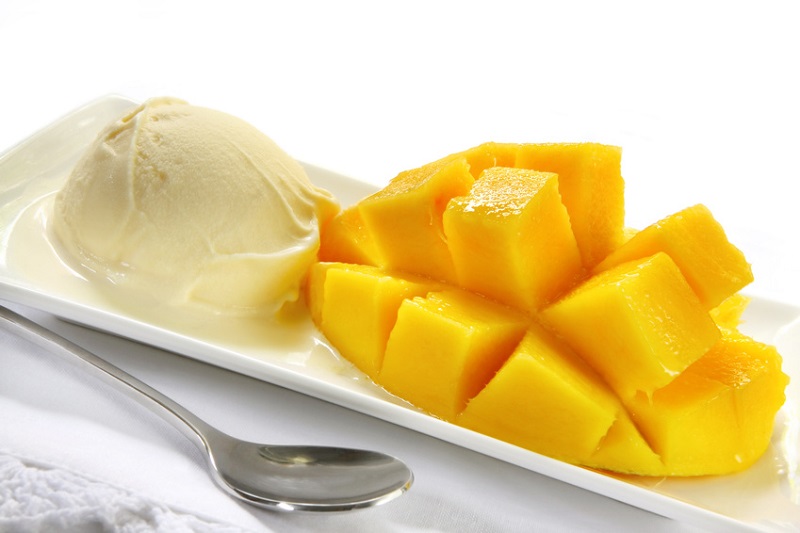 Indian mangos are among the most popular summer fruits that give an exotic touch to fruit salads, desserts and savoury salads! Excellent enjoyed naturally, the indian mango lends itself well to creating sauces and dips to garnish and fill the most delicious and fresh summer recipes. There is a vast variety of this fruit, all characterized by important nutritional properties.
All varieties of mangos!
When it comes to Indian mangos, not everyone knows that there are hundreds of varieties. Although mangos look very similar, Indian mangoes differ in color, size and purpose. The Alphonso and Kesar are, definetly, the most famous and most widely exported. The Alphonso variety is available between the beginning of April and the end of June: has a golden and reddish skin, and has a very juicy, smooth and delicate pulp. The Kesar variety is one of the most expensive: intensely sweet, it is characterised by its small shape, a yellow opaque skin but with a smooth and low-fiber orange flesh. Due to its high quality, RivaReno has selected Kesar mangos for the production of ice cream, slush and popsicles.
The Benisha and Langda varieties are also very popular. Similar to each other, they have a very thin yellow / green skin and a smooth and fleshy pulp. The Benisha variety can be found in the mid seasons, while the Langda is mainly available in the summer.
Properties and benefits of mangos
Mangos have numerous beneficial properties and are, therefore, often recommended in diets. Rich in mineral salts such as calcium, iron, magnesium, sodium and potassium, it is also known for its high content of vitamin A. In fact, a whole mango fulfills the daily needs of our organism, and keeps the body healthy. Another element that set mangos apart is lupeol: this substance is a very useful antioxidant for the digestive system and is under study for anticancer treatments. Finally, among the benefits of mangos we should also mention a high water content which makes it a hydrating fruit, suitable to help with water retention, constipation and stimulating diuresis. Regular consumption of mangos can therefore contribute to the best care of our body.
How to eat mangos: sweet and savory recipes
After having discovered the benefits  of mangos, let's find out how to eat them! The mango has a sweet and peculiar flavor that lends itself to various recipes, including savory ones. In summer dishes, mango goes well with salads, cold rice and dishes based on prawns and white fish. Not surprisingly, it is often used in Japanese and exotic restaurants. In patisserie, it is used as a sauce, combined with chocolate and dried fruit such as hazelnuts and pistachios. Mango is also excellent as a thirst-quenching drink: in India mangos are used to make Mango Lassi, a very refreshing drink based on yoghurt and milk. Inspired by this combination, at RivaReno we have created Mango Heera,. A product with a very smooth texture based on Kesar mangos and a hint of yogurt, which with its sweet and sour hint  is ideal for lovers of exotic flavors!