Milkshake and smoothie: what are the differences?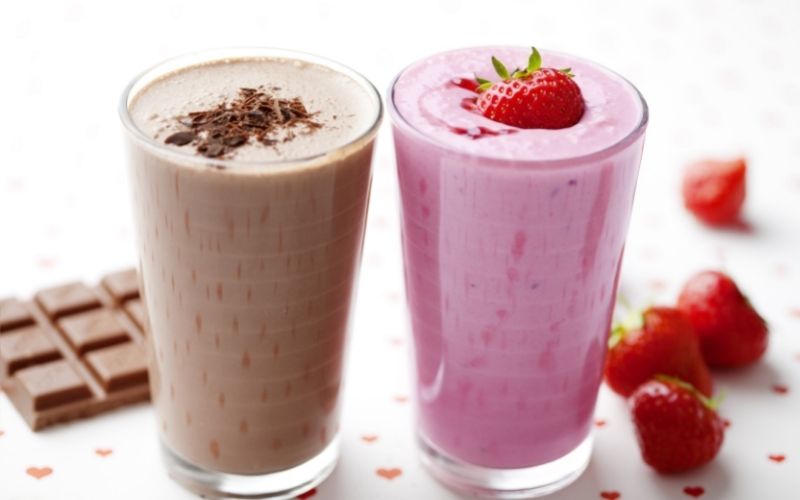 Both are sweet, tasty, easy to prepare and nutritious, but there is no shortage of differences between milkshakes and smoothies!
If the fresh fruit smoothie immediately brings to mind the snacks of childhood, it can well be said that the milkshake is its greedier brother.
The main difference, in fact, is that the basic ingredients of the smoothie are fruit and milk, while ice cream is added to the milkshake.
A healthy and tasty snack: fruit smoothie with milk or water
Cut your fresh seasonal fruit and put it in the blender, add cow's milk, vegetable or even just water. Blend well et voila, the fruit smoothie is ready! In fact, smoothies make simplicity their main feature.
Perfect for breakfast or a snack, fruit smoothies are a concentrate of energy and vitamins and to make them even more nutritious, just wash the fruit well and also use the peel, which is very rich in fiber.
Everyone has their own favorite recipe, but for a really creamy smoothie you can't miss the classic bananas or the most modern avocado to which you can add strawberries, apples, peaches or berries.
Milkshake with chocolate, hazelnut or fruit: the most delicious recipes
The main feature that differentiates it from the smoothie is hidden in the origin of the term milkshake. The name, in fact, is the abbreviation of the French 'frappé par la gelée' which means 'hit by frost'. To make a good milkshake, in fact, in our blender we will have to add ice cream or ice.
If the first experiments of milkshakes, therefore, were inspired by the traditional smoothie and had fruit as their protagonist, the evolution of this drink has favored the most gluttonous tastes.
In fact, among the most loved milkshakes by adults and children, we can only include the chocolate, hazelnut, coffee or pistachio milkshake.
Since the milkshake is more of a dessert than a drink, you can also customize it: whipped cream to garnish, chopped nuts or a sprinkling of cocoa or cinnamon will only make your milkshake even more delicious!
The Rivareno milkshake with fresh ice cream of the day
The more the ice cream is of quality, the better the milkshake will be, there is no doubt.
And if the milkshake is prepared with RivaReno ice cream with the best selected ingredients, without hydrogenated fats and other chemical devilry, well… try to imagine the milkshake!
We are waiting for you in our ice cream laboratories to prepare one for you! You can choose from all the flavors available: from classic creams to our exquisite specialties.