Pistachio desserts: ideas and combinations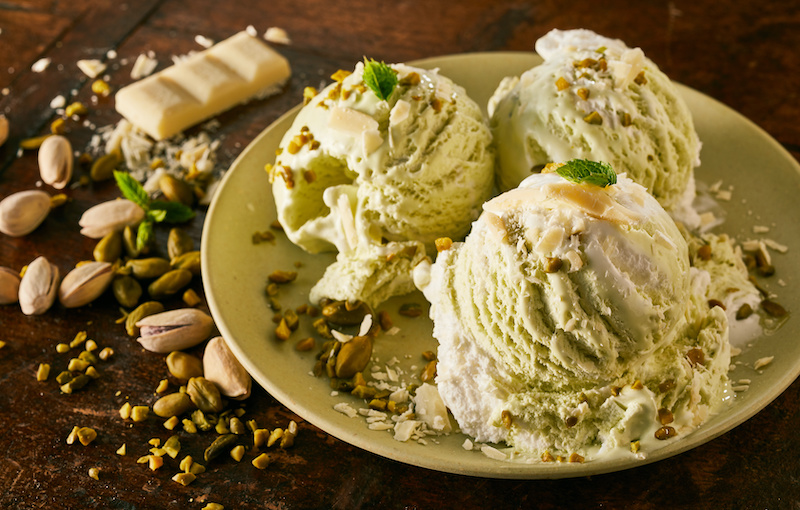 The aromatic flavor of pistachio desserts really conquers everyone, even the most refined palates! In addition, the green color and crunchiness of the pistachio grains add an extra touch to each dessert.
The recipes are so many and very popular, so much so that, in addition to original desserts, there is also a 'pistachio variant' for the more traditional desserts.
Tiramisu, pistachio cheesecake and other no-bake desserts
If even Tiramisu, one of the most loved Italian desserts, has embraced pistachio there is a reason: it is delicious!
In addition, with pistachio you can also prepare summer desserts without having to turn on the oven: cheesecake, parfaits and even small delicious sweets.
Among the latter, for example, the easiest and most versatile recipe is to create a dough based on pistachio cream, mascarpone, sugar and make balls to be placed in the refrigerator and served fresh.
To make them more beautiful and add a crunchy or tasty touch, just pass them in the pistachio grains, in that of hazelnuts or in chopped coconut or bitter cocoa.
Recipes and ideas for cakes and biscuits with pistachio cream
Soft filled cakes, pies and shortbread biscuits: with pistachio cream any baked cake becomes a masterpiece of taste.
Pistachio, in fact, lends itself to numerous combinations and, in addition to the more classic tart, it is suitable for churning out superfine goodness, marrying perfectly, for example, with chocolate in the tasty Pistachio Caprese cake.
Furthermore, with the pistachio cream you can fill soft cakes with cocoa, hazelnut and even coffee: a truly intense and surprising combination of flavors.
Another successful idea is to make the dough for the lady's kisses and combine the two biscuits with pistachio cream. For those with a sweet tooth, it is always possible to cover the biscuit by dipping it in melted chocolate: dark or white, depending on your taste.
RivaReno daily fresh pistachio ice cream: the best combinations
Among our classic creams, pistachio ice cream is truly a refined institution.
To give our ice cream the most authentic and intense flavor, we have chosen a blend of the best pistachios in the world that come from Sicily, Greece, Syria and Turkey.
We know, however, that to savor pistachio ice cream in all its gustatory splendor, pairing is also important.
Lovers of the classic will certainly appreciate it with hazelnut, chocolate, gianduia and even coffee.
For those who love to experiment, however, we recommend a combination with red fruit ice creams: strawberry and raspberry above all.