Sicilian granita: original recipe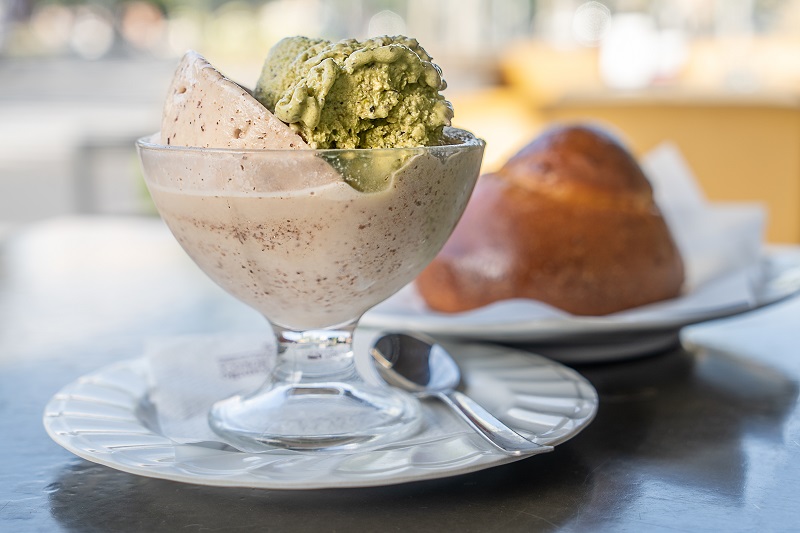 A sweet treat, usually served in clear glass goblets, to be enjoyed with a spoon or with the traditional "brioscia col tuppo".  The Sicilian granita is a timeless Italian gastronomic delight (as well as a panacea to deliciously cool you down in summer!).
Do you know the original recipe of Sicilian granita? The basis consists of only three ingredients: water, sugar and lemon juice. Then, depending on where you are located, or on your taste, it can be enriched with something else, from the classic flavours of melon, coconut, almond, pistachio and strawberry to the more distinct flavours of bergamot, peppermint, mojito, etc.
The origin of the authentic Sicilian granita
The history of the Sicilian granita is very ancient, dating back to the time of the Arab domination. In fact, when the Arabs arrived in Sicily they brought with them the recipe for the so-called "sherbet", the iced drink, typical of the Middle East, flavoured with flower petals and fruit juices. However, we must not forget that at that time, during the winter season, the Sicilians already collected the snow that had fallen on Mount Etna, and other mountains, and kept it stored inside special stone buildings, erected above caves (so that the temperature could remain cold) until summer. Then, when needed snow and salt were placed in a 'pozzetto' (a wooden container holding a zinc bucket) continuously mixing until the desired consistency was obtained: that is, the granita. That ancient pail has now been replaced by the ice cream maker.
Calories and nutritional values of the Sicilian granita
Refreshing and delicious, the Sicilian granita is known everywhere. Though, do you know how many calories are there in a 100 gr Sicilian granita? Less than 90 kcal! If we consider all the other nutritional values, then we should specify that 100 grams of granita contain 7.06 grams of fat, 29.1 grams of carbohydrates and 0.4 grams of protein. These values obviously vary according to the added extra ingredients.
The RivaReno ice cream parlours also offer a wide choice of granitas, all super genuine and refreshing, freshly made daily and with the finest consistency!