Strawberry grape recipes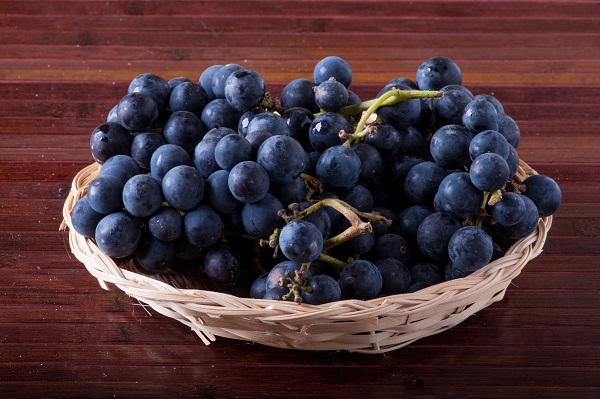 The strawberry grape is a delicacy that can be enjoyed fresh for a few months, during the autumn: it can however be preserved in the form of jam, spirits and jelly, but it can also be enjoyed in some types of cakes, ice creams and unusual dishes such as meats and risottos seasoned with strawberry grapes. In fact, its sour taste also goes well with savoury recipes, and its nutritional properties make it a valuable and healthy ingredient.
Strawberry grapes: cultivation and variety
The black strawberry grape, or "fraga", is a type of table and wine grape imported from North America in 1820, to stregthen the European vines destroyed by an epidemic disease.  This species is in fact better resistant to pests and low temperatures, so that, once the emergency was over, the vinification of American grapes has to be limited to enhance the indigenous varieties. The famous fragolino wine can actually only be produced for domestic consumption, and strawberry grape liqueur is not considered a grappa (also due to its low alcohol content). The cultivation of strawberry grapes produces the white table, Isabella and unripe varieties, appreciated for the sour taste and the scent reminiscent of strawberries (hence the name).
In the kitchen with strawberry grapes: a triumph of sweetness and originality
The simplest thing to make is strawberry grape jam, easy to preserve. If it is too runny during cooking, you can add an apple cut into small pieces, which will thicken the jam with its natural pectin content. Whole grapes are the perfect toppings for strawberry grape cakes: the rustic schiacciata toscana and the Bertolina, a traditional dessert from Crema and Cremona. If you're feeling daring, you can pour strawberry grape juice to make a risotto more creamy, along with parmigiano reggiano, robiola or gorgonzola, for those who love bold flavours. Strawberry grape jelly can also become an accompanying sauce for red meats, such as duck breast.
Black strawberry grape gelato: welcome autumn!
Respecting the freshness and seasonality of ingredients is the first step to preserve the fruit and its nutritional principles: for example, the strawberry grape is rich in potassium, sodium, vitamins A, C and antioxidants which are fundamental for a healthy heart and nervous system. If the aroma is persuasive, in reality it is the skins that hide the greatest beneficial properties: for this, RivaReno squeeze the whole grape to create an intense and aromatic, thirst-quenching and purifying grape sorbet.
The RivaReno black strawberry grape gelato is available fresh from mid-September to mid-October.