Sweet & savory waffles: ideas for indulging in the kitchen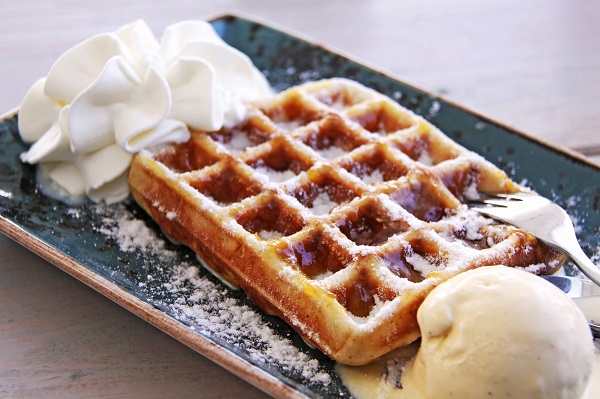 Waffles, sweet or savory, are a real delight: warm waffles, crunchy on the outside and soft on the inside, with a slightly sugary, but never cloying, flavor. The long history of these desserts has led them to be called by many different names: Waffel or waffle and even waffle (although the recipe is slightly different). Their yumminess, however, has never been questioned.
The Waffel recipe and its story… fairytale
The ancestors of Waffel are numerous: hosts whose recipe dates back to Ancient Greece, medieval cakes with the typical honeycomb shape served with honey and cheese … it is difficult to say exactly when a recipe with ingredients as simple and as tasty was born. To make the Waffel, in fact, you only need flour, eggs, milk, butter, sugar, a pinch of salt and a pinch of yeast. We certainly know that it was the Grimm Brothers, the most famous fairy tale writers of all time, who, in 1800, included the name of this dessert in the German dictionary. Since then, the Waffel has become more and more popular, and a real symbol of good luck and health; so much so that often couples were given plates for making waffel to wish them a long and happy life together.
Sweet and savory waffels: one dough, a thousand recipes!
There are many reasons to love Waffels, and among these the one that stands out is the opportunity of enjoying them accompanied by different foods depending on the time of day or on personal preferences. Waffles, in fact, have a delicious and delicate flavor that goes wonderfully with both sweet and savory fillings. For breakfast or as a snack, nothing is more indulgent than a sweet Waffel with gianduia cream, jam or honey and fresh fruit. But also for savory lovers there is really something to indulge in. Delicious with smoked salmon and spreadable cheese or butter, delicious if used instead of sandwich bread to create surprising and delicious aperitif sandwiches.
Waffles with fresh RivaReno ice cream of the day
In the RivaReno ice cream parlours we make the dream of any sweet tooth come true: a crunchy and soft, warm Waffel, to be savored with cream and your favorite ice cream flavor. The temperature at which we serve our ice cream is cool enough to balance the heat of the Waffel but never cold, so that at every bite you can fully enjoy the perfect harmony between creaminess and crunchiness.