Sweet waffles, the perfect energy snack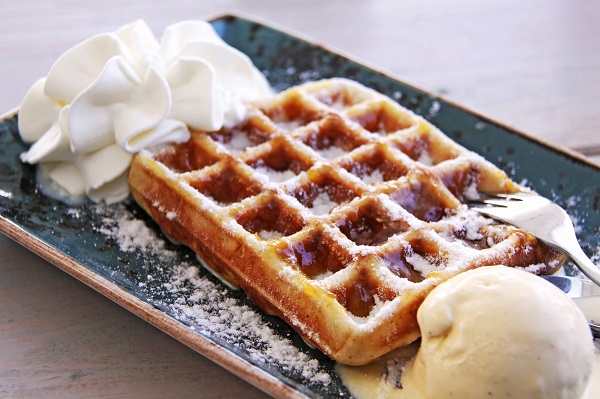 Sweet waffles, tall wafers with a crunchy crust and soft centre served with custards, cream, fresh fruit, syrups and ice creams, have become famous in Italy too. Waffle recipes lend themselves to numerous reinterpretations thanks to the versatility of their dough. If you're wondering how to make waffles without an iron, just know that it's not difficult; you can easily found out how to make them online, however we warn you: they are very unlikely to be as delicious as waffles prepared "professionally".
Waffles: ingredients and history
The recipe for soft waffles involves making a mixture of flour, eggs, butter, yeast, sugar and milk. The simple and genuine ingredients of waffles favoured their distribution in different countries: the Pilgrim Fathers embarked on a journey to the United States from Belgium, home of the gaufre ("honeycomb" in French, a name that evokes the grilled appearance of sweet waffles). In Brussels they are rectangular and less sweet, while in Liège they have more irregular edges and a more pronounced sweetness. They are, however,  given everywhere as gifts to wish good luck and health: in Sweden there is even a day in honour of waffles, on March 25th, a date that coincides with the religious feast of the Annunciation.
How to make waffles without a waffle iron

Waffle dough is so easy to make that it can be transformed into a game involving children and teens, perfect for encouraging them to carry out their first gastronomic experiments. A waffle maker is a useful but not essential tool: it is great for achieving well-defined shapes, but it can easily be done by using just a non-stick pan or oven. A curiosity: in the countries of Northern Europe, waffle irons are personalised with family crests which are neatly imprinted onto these delicacies.
How waffles are served at the RivaReno Ice Cream Workshops
The foreign origins of these waffles include a link with the typical Italian specialities: sweet treats similar to waffles are found in Piedmont, in the Canavese, in Abruzzo and Molise. Since the waffle dough is a delicate and light base, it can enhance any garnish, especially if it has a different temperature and consistency. RivaReno celebrates on the one hand the reference to America and on the other the fresh gelato of the day, offer hot waffles with toppings including maple syrup, honey, gianduia cream or exquisite gelato with your choice of flavour.0627