The birth of the gelato Stick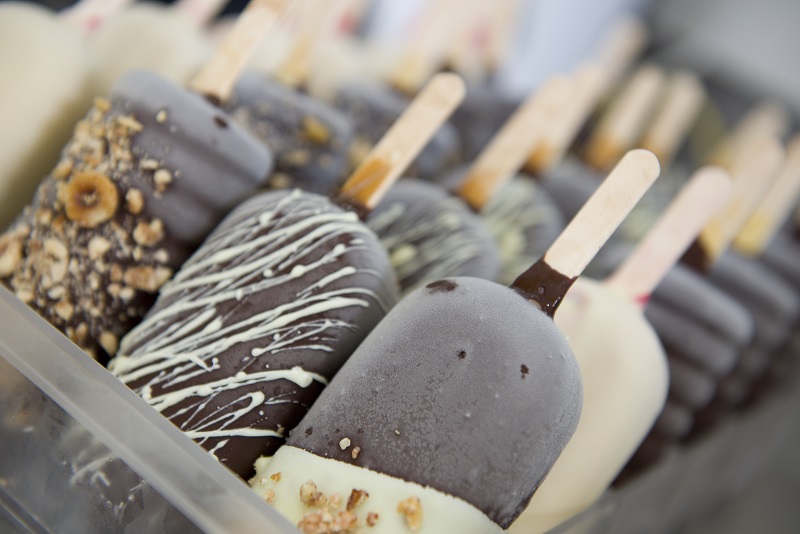 The story of the first gelato stick is, like all the stories about innovative gastronomy, highly evocative. It seems that in 1939, after a long phase of study and experimentation, the first covered gelato served on a stick was offered, marketed and patented by an gelato laboratory in Turin. The gelato stick was called Penguin.
The success of the gelato stick to walk with
The gelato stick was immediately enormously successful: this is probably attributable to the fact that this new gelato could easily be consumed while walking, without the risk of getting dirty. The history of this innovative gelato is, however, rich in legends and, to this day, there is debate as to the true inventor to whom this gelato revolution is to be attributed. Some argue for an American inventor: according to supporters of this thesis, gelato was first applied to a stick in 1923 (before the above-mentioned invention of the Penguin), by a Danish immigrant who owned a sweet shop. Legend has it that, when faced with the indecision of a child in choosing a vanilla gelato or a chocolate bar, the Danish immigrant decided to combine the two flavours. The Rivareno Italian gelato laboratory offers you the unique taste of its fresh fruit popsicles and its exquisite cream sticks; all Rivareno gelatos are prepared at the ice cream production laboratories adjacent to each store.
The original recipe for gelato on a stick
On the Old Continent, the original recipe for gelato on a stick  is disputed between two Italian gelato parlours located in Piedmont and Liguria respectively. The gelato on a stick was called "penguin" due to the contrast of colours that characterized the product. Some people, however, called this the "stroller" gelato precisely because of the convenience with which it could be enjoyed on walks.
Molds for gelato on a stick
Gelato sticks are made with special molds for gelato: there are many forms, designs and ideas with which gelato molds are offered today: the molds that look like animals or figures are particularly loved by little ones. The molds that offer the traditional form of gelato on a stick are timeless and ever popular. The molds for gelato on a stick must be made strictly of food-grade plastic or, alternatively, of resistant silicone.