The History of Crêpe Suzette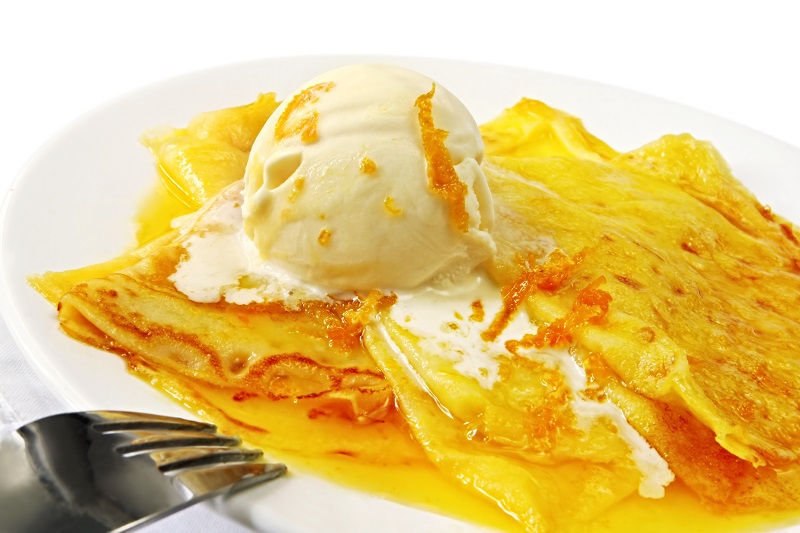 Crêpe Suzette is one of the most popular desserts in French cuisine.
At the core of this recipe, in addition to the Crepes, there are few ingredients: caramelized butter and sugar, orange juice and orange peel whose flavor is enriched thanks to the Grand Marnier flambé.
It all sounds very simple, and it is, but the result is a truly appetizing dessert.
What is intriguing, as is often the case with many traditional dishes, is the history of this dessert, which has a controversial and fascinating origin.
Crêpe Suzette: a recipe that tastes of legend
We are at the Café de Paris in Munich, and it is 1895. The future Edward VII of England is waiting at the table.
In the kitchen, Henri Charpentier has to prepare crêpes but, trembling with emotion, he slips too much liquor into the pan and the pan catches fire.
Despite the error, the dessert is served and much appreciated, so much so that the future king asks the young cook for the name of the dessert.
Henri, therefore, sketches a "Crêpe princesse" but the Prince, smiling at a beautiful diner, is of another opinion: "They will be called Crêpe Suzette!".
The Larousse gastronomique, the bible of French cuisine, disproves this story, however, and an interview by Charpentier himself  he describes the origin of Crêpe Suzette as a variation of a family recipe.
Other sources do not refer so much to the origin of the recipe, but rather to the origin of the name: the Suzette in  Crêpe would actually refer to Suzanne Reichenberg, a well-known actress who used that stage name.
Crêpe in French cuisine: pride and tradition
If Suzette are the most famous in the world, it is also true that in France any type of Crêpe is a real national symbol.
A culinary pride and a popular staple that has now also become the French street food par excellence.
Symbol of friendship and alliance, Crêpes are the typical dish of the Candlemas festival, and tradition has it that, when the crepe is flipped in the pan (in a single move, please), one should make a wish.
The RivaReno Crêpes
At RivaReno, we want to satisfy your indulgent pleasures every day, which is why in the ice cream workshop every day we also prepare Crêpes.
You can enrich them with fruit, cream, honey, gianduia cream or with your favorite fresh ice cream of the day.
But what is the ideal pairing with crepes? If you want to add an indulgent touch to this dessert, we recommend our Orange Chocolate. An intense and velvety harmony of cocoa, orange and Grand Marnier that takes up the unmistakable flavor of the recipe and enhances it with the delicacy of cocoa.
Et voila!