The history of panettone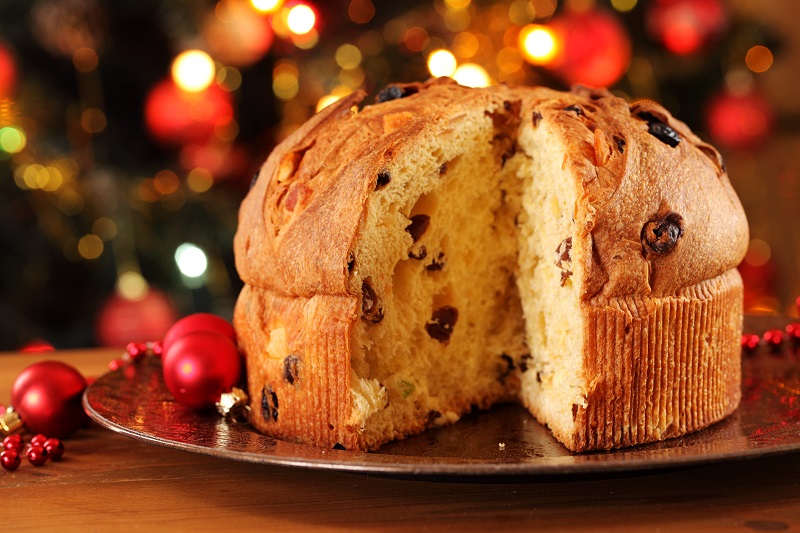 It's the centrepiece of the dinner table during the winter holidays, as well as one of the symbols of Christmas: we're talking about panettone, a soft dome of leavened dough enriched with candied fruit, orange and citrus peel and raisins.
But not everybody knows that the panettone has a story to tell…or maybe two!
Who invented panettone?
Over the years, more than one person has wondered who invented panettone. There are actually two different legends surrounding the birth of this delicacy.
The hero of the first is Messer Ulivo degli Atellani, who was in love with Algisa, the daughter of the baker whose shop he worked in as a boy. To increase turnover, the boy prepared a cake made using flour, honey, butter and eggs: history's first panettone. This came to be appreciated for making customers, baker, and daughter happy — the latter of whom was glad to become Messer Ulivo degli Atellani's wife.
The second legend revolves around a fortunate mistake committed by a cook serving in the kitchens of Ludovico Il Moro. While preparing the Christmas meal, the cook had prepared and accidentally forgotten a cake in the oven, which had become inedible. To remedy the situation, Toni, a young kitchen boy, suggested that the cook prepare an alternative dessert with the few ingredients left in the larder: honey, butter, flour and candied fruit. The result? A huge success: so much so that even today "Pane di Toni" (the Italian for "Tony's bread") is a Christmas dessert beloved by old and young.
Sweet filled panettone: a treat for all tastes
Today panettone can be eaten "pure", as is traditional, but also filled in various ways. Among the various creams used to enrich it, the top choices are chocolate, custard and gianduia (chocolate and hazelnut); but it doesn't stop there! In recent years panettone production has created space for innovation by incorporating pistachio, limoncello, and even Spritz fillings. In addition to the cream-enriched dough, panettone has been made even more delicious by the addition of 'granella'…small but essential grains that crunch between the teeth.
But that's not all: sweet panettone can also be filled with your favourite gelato flavour!
Panettone filled with gelato
RivaReno sells Perbellini panettone and pandoro in its gelato laboratories, synonymous throughout the world with true excellence in pastry. For those with a sweet tooth, RivaReno offers the chance to buy the unmissably delicious panettone filled with gelato made fresh that day!
The combination of the taste and texture of panettone and gelato creates a unique dessert that offers intense pleasure, bite after bite.