The most famous Sicilian liqueur wines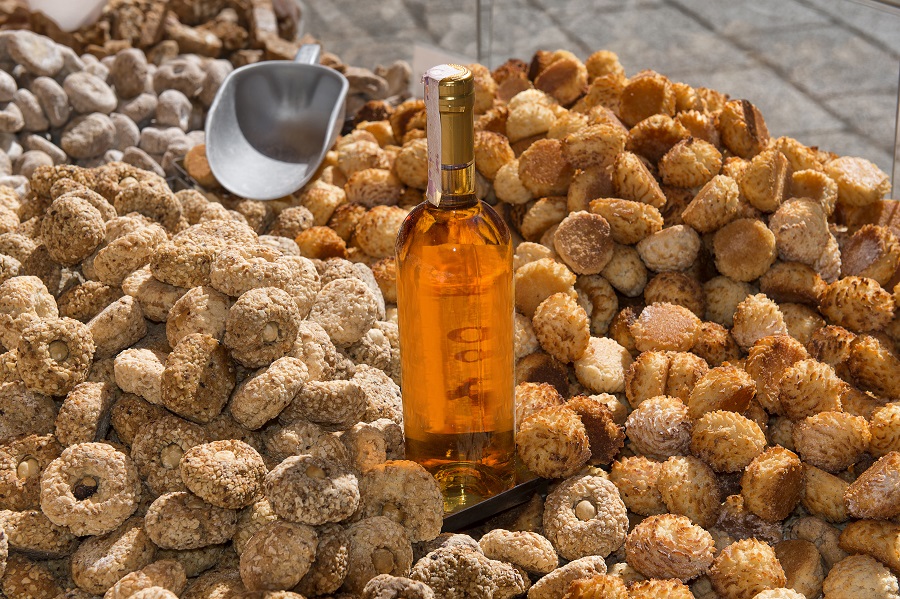 Sicily, a land of history and gastronomic culture, is also the "homeland" of numerous fortified wines such as Passito di Pantelleria, Malvasia di Sicilia and Zibibbo di Sicilia, just to name the most famous. When not tasted alone, these Sicilian liqueur wines are mainly used both to accompany dry biscuits, such as cantucci, and as an ingredient in some desserts' preparation.
Passito di Pantelleria
To fully appreciate the Passito di Pantelleria wine, it must be served in small glasses and at a temperature of 10-12 ° C. Thanks to its sweet and aromatic flavor and intense aroma, it is perfect to accompany traditional Sicilian pastries, almond dry biscuits or jams biscuits, cakes and pies, and typical Sicilian almond pastries. It is also an excellent aperitif wine to accompany spicy and blue cheeses, or food with even stronger flavors, such as foie gras.
Malvasia of Sicily
Amber-yellow in color, Malvasia di Sicilia wine has an intense aroma of candied fruit, apricot and honey and is pleasantly sweet on the palate. Thanks to its aromatic and fruity notes, it is ideal with typical Sicilian desserts, with almond biscuits, dried figs or dry pastries in general. It can be served cold (at around 10 ° C) or at room temperature. Generally considered as a dessert wine, it can also be enjoyed as a meditation wine.
Marsala Vergine Soleras
Marsala Vergine Soleras is a DOC wine produced in the province of Trapani from the Catarratto, Grillo, Damaschino and / or Ansonica vines. The golden color, the intense and characteristic aroma and the dry flavor make this wine unique. Tasting Marsala Vergine Soleras means savoring the finest Marsala variety available on the market. RivaReno uses this extraordinary fortified wine for the preparation of some specialties including Alice.
Zibibbo of Sicily
Zibibbo di Sicilia is a fortified wine with a bright, aromatic yellow, with persistent notes of apricot, an almond aftertaste and floral olfactory notes. In the dry version it is used as an aperitif wine, to accompany shellfish or fish dishes, while the sweet version is perfect to accompany cassata, cannoli, almond paste, dry pastries or as an ingredient to prepare an excellent ice cream. The RivaReno ice cream shop, for example, uses Zibibbo to prepare one of the homemade specialties of the house: the Mediterranean Cream, a delicacy inspired by Sicilian aromas and flavors.