Tiramisu: the story so far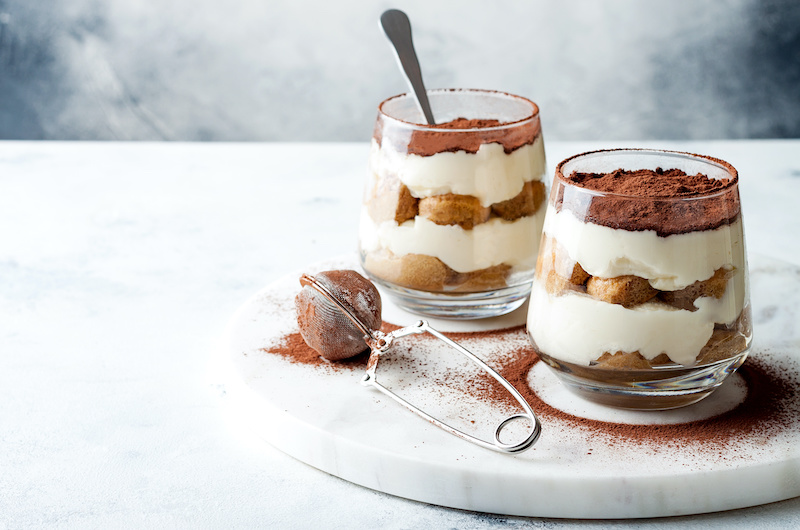 Mythical tales do not only belong to the past, but also continue in the present. An example is the history of the provenance and origins of Tiramisu.
In fact, many regions are competing for the paternity of the most loved Italian dessert in the world: let's try to find out together which compatriots we should thank every day for giving birth to His Majesty the Tiramisu!
Why is it so difficult to find out where tiramisu originated?
Tuscans and Venetians, Piedmontese, Friulians and Emilians boast the invention of Tiramisu, but how did things really go? The matter is undoubtedly thorny and, between one teaspoon and the next, has crossed the minds of millions of people in Italy and abroad.
The truth is that in the traditional cuisine of each of these regions there is a spoon dessert that could be defined as the ancestor of Tiramisu.
The Duke's soup, born in Siena, a dessert created ad hoc for Camillo Benso Conte di Cavour, and even the Forlì Pellegrino Artusi describes the Dolce Torino, a recipe very similar to that of the classic Tiramisu.
But what a Tiramisu is not.
Treviso vs Friuli: the birth of the name and of the real Italian Tiramisu
If we look for the name 'tiramisu' in the Treccani dictionary the question does not arise: it is a dessert of Friulian origin. So why was the first Tiramisu Museum opened in Treviso?
The confectionery rivalry between the Venetians and the Friulians is, indeed, known and bitter.
The former claim that Tiramisu, as we all know and love it today, was born in the kitchen of the Alle Beccherie restaurant; the latter, on the other hand, claim that the name and the traditional recipe were invented at the Albergo Roma in Tolmezzo.
If the geographical origin of Tiramisu is still disputed, its roots in poor cuisine are certain: like many great traditional Italian dishes, in fact, its goodness derives from the simple combination of inexpensive but very fresh ingredients.
The best fresh Tiramisu ice cream of the day has only one origin: RivaReno
We at RivaReno were born in Piedmont, but we are not so fussy as to attribute the invention of Tiramisu … That of the best Tiramisù ice cream, yes, though!
We made it one of our specialties not only because we are gourmets, but because Tiramisu is an institution, a taste recognized all over the world, so much so that, according to the Accademia della Crusca, it is present as 'gastronomic Italianism' in 23 different languages.
Every day we prepare the Tiramisu flavor respecting the original recipe with many layers of goodness which, thanks to the serving temperature of our ice cream, lose none of the greedy creaminess of the traditional dessert.