Typical Piedmont chocolates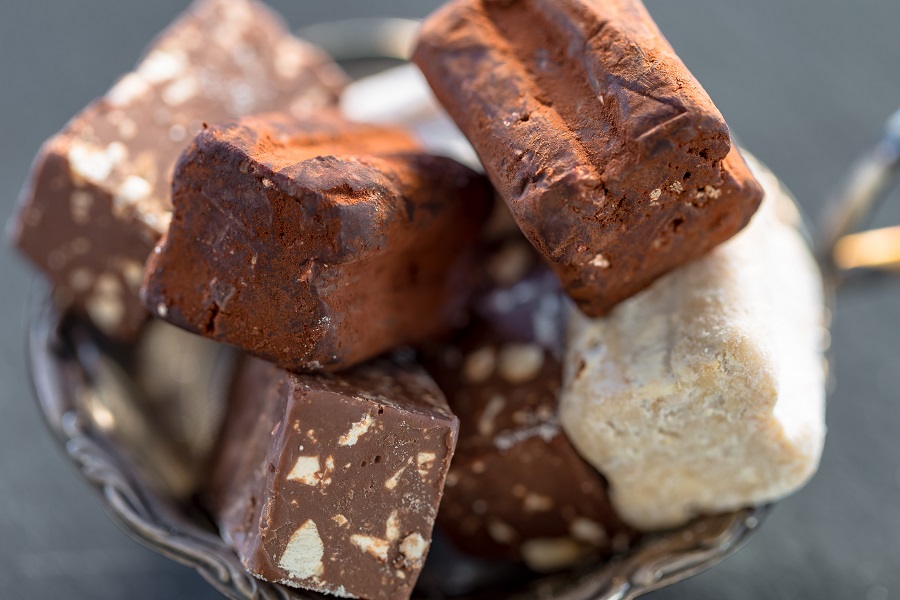 Chocolate is one of the most loved foods in all its shapes, both by adults and children. In this article we will talk about some typical Piedmont chocolates, whose quality is appreciated throughout the country and also abroad.
Piedmont Gianduiotto: origin of the curious name
The Piedmont gianduiotto melts in the mouth: from the first bite you can feel all the flavor of the Langhe's hazelnuts mixed with pure cocoa. But where does the curious name of the chocolate come from? The origin of the most famous Turin chocolate dates back to the Carnival of 1865: according to tradition, the popular Turin mask 'Gianduja' went around distributing chocolates with a characteristic shape. This shape would recall the wing of the tricorn worn as a headdress by Gianduja; hence the name "gianduiotto".
Cuneese al rhum: typical chocolate from Cuneo
The cuneese al rhum is the typical chocolate of the city of Cuneo, from which it gets its name. The historic chocolate is made up of two meringue waffles that enclose a dark chocolate and rum creamy filling. Everything is then coated with a delicious layer of dark chocolate and then wrapped in red paper with golden writing. The invention is attributed to Andrea Arione, the first owner of the homonymous coffee shop. These are chocolates to be served at the end of a meal, to present as a gift in important occasions, or to be enjoyed as a little treat!
Cri cri: the chocolate – sugared almond
It is said that the origin of cri cri, the round chocolate consisting of a hazelnut covered with chocolate and sprinkled with tiny spheres of white sugar, has a romantic twist. In fact, the name derives from the young Turin Cristina, sweetly called by her boyfriend with the diminutive "Cri". Before every date, the boy would go to a local pastry shop to buy her these sugar-coated chocolates. Then, to celebrate this great love story, the owner of the shop decided to rename his creation as "cri cri".
Cremino chocolate: layered delicacy
The cremino is a typical cube-shaped chocolate, consisting of three layers. The outermost layers are made of gianduia chocolate, while the central layers are made of a coffee, hazelnut and, even, lemon chocolate paste. The cremino was invented in Turin in 1858 by Ferdinando Baratti, owner of a liqueur-confectionery.
RivaReno offers you two fresh alternatives to the classic chocolate: Cremino RivaReno made with white chocolate, hazelnut, cream and layers of gianduia cream, and Cremino Dark made with dark chocolate, cream, hazelnut and a layer of pistachio cream.